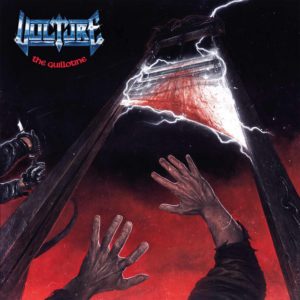 Today's interview is with Stefan Genözider, guitarist and drummer for Vulture, an outstanding Heavy Metal band that's giving very important steps in the Metal scene. "The Guillotine" is Vulture's first full lenght and is to be released on August 25th, as we announced here in our News. Vulture's debut EP "Victim To The Blade" got a great response from the fans, and so will "The Guillotine" which maintains the same "consistent" sonority of "Victim To The Blade," in Stefan's words. We talked a little about the band, their future plans, Heavy Metal scene, and others. Let's take a look, shall we?
Metal Addicts – Hi guys! This is Poleto, and I'm with Metal Addicts. Congrats for your album "The Guillotine." Before I get started, I have to do a follow up to you get my point. Before reviewing "The Guillotine," I reviewed a band called Hexhammer who happened to be speed metallers too. There I wrote that speed metal was back for our own sake. I guess everybody was missing the punch and, of course, the speed of it. You guys are bringing back the European tradition of having great speed metal bands. I also wrote that this is one of the reasons fashion people hate us. To us Metal is timeless, we simply don't care about trends and things like that. That's the reason why there are still many bands all around the globe playing that "outdated" music. To me music is never outdated, do you know what I mean? How do you feel about that? How's the speed metal scene in Europe, and specially in Germany?
Stefan – I'd not say we don't care about trends. We just don't like them. We basically stopped thinking about stuff like this. We're celebrating Heavy Metal in its purest form. That has nothing to do with being retro, trendy or "old school" if you will. Maybe consistent is the right word to use. In Europe, there's a lot of good stuff popping up in the last decade. Most of it being from Scandinavia. I'm thinking about Antichrist's demos and debut, Rangers first three releases and Black Magic's A-side. Overall the genre is rather crowded and a lot of bands may sound generic, but there's a lot gems to be found in between.
Metal Addicts – In your release you quoted two major bands: Judas Priest and Merciful Fate, among other. Let me tell you, didn't you guys forget to quote the great Running Wild as well? In my opinion there's a great deal of Running Wild in "The Guillotine." BTW, any Tyrant too? How do you deal with the great legacy of speed metal German bands? Did they inspire you?
Stefan – Not really. Overall, we're not the biggest Running Wild fans. Tyrant is a great band, of course, but also not very "important" for Vulture's sound. We're focusing more on the early days atmosphere and feeling than sounding "like that one riff from Destruction" or whatsoever, haha. I guess we got a pretty personal approach when it comes to songwriting, which, apart from sound, is supposed to our number one trademark.
Metal Addicts – I always like to ask the bands about the process of songwriting, the time inside the studio, the equipment they used to record the songs. How was that to make "The Guillotine" sound so 1980s and at the same time so fresh and modern? BTW, I read in your release that  you play the guitars and the drums. Help me out with that, how could you? How about gigs, do you have a spare drummer or guitarist?
Stefan – Just as our debut EP, "The Guillotine" was recorded and produced by Marco Brinkmann of Hellforge Studio. He's a very talented sound designer who managed to get the most out of the four of us. I guess his secret is first off, that he's deep into the music we're making. He's been somehow part of Vulture since day one and developed a big share on how we sound. He's not trying to do anything that would make us sound retro. His techniques and approaches are rooted in modern production times, yet he knows exactly, what is needed to create that great and authentic Heavy Metal feeling, which we all love so much. In the studio I'm playing the drums, you're right. At our shows we're assisted by our good friend AC, who's also working with us in Bulldozing Bastard.
Metal Addicts – Many of the good names for Metal bands are already taken, but you came up with a very nice one. Who suggested it? Where does the inspiration come from?
Stefan – That was a hard discussion, I can tell you, haha… But there's no big story behind it. We definitely wanted to have a catchy one-word-bandname. Vulture felt right, even though it got used quite a lot already, hehe.
Metal Addicts – Some time ago, Amon Amarth commented that they were lucky because they started playing in the 1990s when the musical industry was different and they could make a living with selling albums. Mastodon also commented that they have to get a lot of gigs to make some money, and by some sort, that think that is not healthy. In addition to that, Iced Earth's Jon Schaffer told that you have to be much more creative these days. How about you guys? Is it difficult to get gigs? Any plans to play overseas outside Europe?
Stefan – We're getting a lot of great offers from promoters all over Europe recently. That's making us really happy. Unfortunately, we're forced to decline a lot of tempting offers, since we're all bound to our jobs. We hope to play as much as possible, but I don't think we'll ever turn out to be a touring band.
Metal Addicts – Well, I guess that's all. Congrats for the great effort. Wish you the best! Keep speed Metal rolling!
Stefan – Thank you, mate! Thanks for the nice chat!