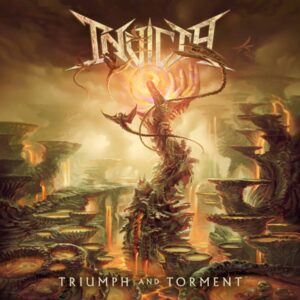 There are some albums that really deceive the fan. Sometimes it's the intro, but I guess intros don't deceive anymore; other times are the initial notes that deceive the fan. My guess is that they deceive much more than the intros because we are now used to have intros that absolutely make no part of the song or the album whatsoever. Initial notes are different, they are part of the song and of the album, but, in a sudden, they have a change of heart that makes them so different from the song. Invicta's "The New Throne" gives this exact feeling to the fan by starting with a guitar duo that reminds the classic guitar duos of Old School Heavy Metal, more especifically Iron Maiden with their melodic guitar phrases. For some seconds the fan would think that the album is a great piece of Old School Heavy Metal. Well, just a feeling because when vocals come everything change totally. Vocalist Kyle Edissi's guttural voice changes all the mood of the album making it the missing link between Iron Maiden and Kreator as its press releases proudly says. I have no other way unless accepting and praising it. Musically, my opinion is that Invicta much more near Iron Maiden than Kreator due to the melodic guitars they deliver in all songs. They make all the difference to the sonancy of the album.
"Triumph and Torment" is a great tittle for an album because I guess they express exactly what life in this sad and lonely and pathetic planet is. We all have moments of triumph and tormenter, however, form where I sit there are much more moments of torment than triumph. Well, to have the opportunity of listening an album like this is one of the moments of triumph for sure. But there are so many moments of torment and agony. Yes, there are.
I wouldnt say "Triumph and Torment" is the perfect sample of a Melodic Death Metal album. Tracks as "Embodiment of Infamy," for instance, hardly could be labeled as pure a Melodic Death Metal song. I felt in the album may features of Thrash Metal as the press relese said. Kreator are everywhere here. Pay close attention to the guitar duo phrasing at the end of the song. Even the more melodic the Melodic Death Metal band couldn't get this feeling that comes from Old School Heavy Metal or Thrash Metal. The acoustic guitar intro of album tittle and grand finale "Triumph and Torment" tells the same tale. As the neat instrumentals that come after the intro. "Triumph and Torment" has so many guitar duo phrasings to be only Melodic Death Metal. I do love it, but I guess Invicta go beyond. For the fans' sake.
Invicta "Triumph and Torment" will be released on March 31st via SubLevel Records.
Track Listing:
The New Throne
Forces of Annihilation
Apprentice of Death
Battle the Beyond
Sinister Obsession
The Morning's Light
Parasitic Reign
Preeminance
Embodiment of Infamy
Triumph and Torment
Watch "Sinister Obsession" official music video here: