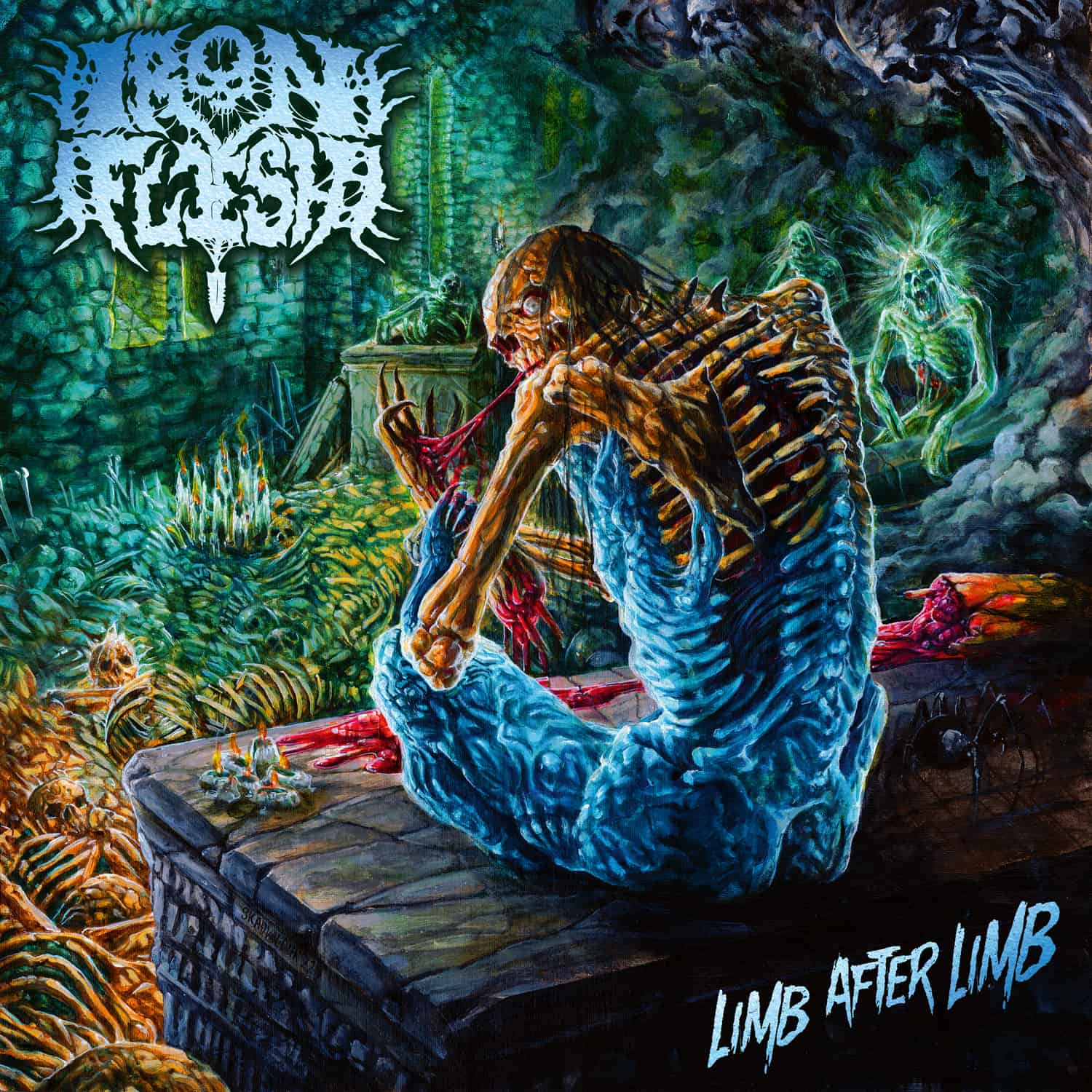 Regarding to having a follow-up of albums previously reviewed this year has been nothing but great. I lost track of how many we've reviewed and, after all, I can't tell how happy I got from doing this. To receive the following album of a band reviewed before means that the band is still alive and doing well. It means a lot. It also means that the band and its management trust us to the extent of trusting their work to be tasted by us. In those days of internet downloading this counts a lot as well.
Ok then, this is the freshiest release from Iron Flesh called "Limb after Limb" after reviewing their 2021's "Summining the Putrid" which was really a blast. I remember to have liked it a lot because of the fresh mix the band did there. From the moment we decide to appreciate Extreme Metal, we leave a situation where are kind of used of thinking that guttural vocals are all the same. To laymen maybe, to Extreme Metal aficionados no, not really. Julien Helwin's vocals are anything but the same. With nothing but a good listening to "Limb after Limb" my dear child of the night will notice that. It's just to begin with "Overthrow ov the Sermon ov God" and "Cursed Within" to see it. The guy really knows how to stand out from the crowd. Instrumentally, the band continues the great work done before with "Summining the Putrid" that was to combine NWOBHM with Old School Death Metal. Well, having a second though, I guess this is redundant as Old School Death Metal is this kind of mix, but whatever what Iron Flesh bring here is an album of guitars. An album for the fans that love guitars. Album tittle track "Limb after Limb" is a great example of what Julien Helwin and Sylver Alexandre are capable of.
To some extent, it's possible to say that "Limb after Limb" is a following of "Summining the Putrid" in a musical way. Both albums share the same ideas and solutions what, in fact, is impressive. It's easy for a band to maintain its creativity intact album past album and even go beyond it as the moody "Blessed Be the Creators" and "Honor in Death" showcase the fan. Both with a taste fo Sepultura and Soulfly's Max Cavalera on vocals.
Iron Flesh "Limb after Limb" was released on November 04th via War Anthem Records.
Track Listing:
Overthrow ov the Sermon ov God
Cursed Within
In Agony You Must Reborn
Limb After Limb
Blessed Be the Creators
Sacrorum Profanationem
Honor in Death
To Become One With the Dead
As Ghouls March On
Procession of Living Cadavers
Watch "Limb after Limb" official music video here: