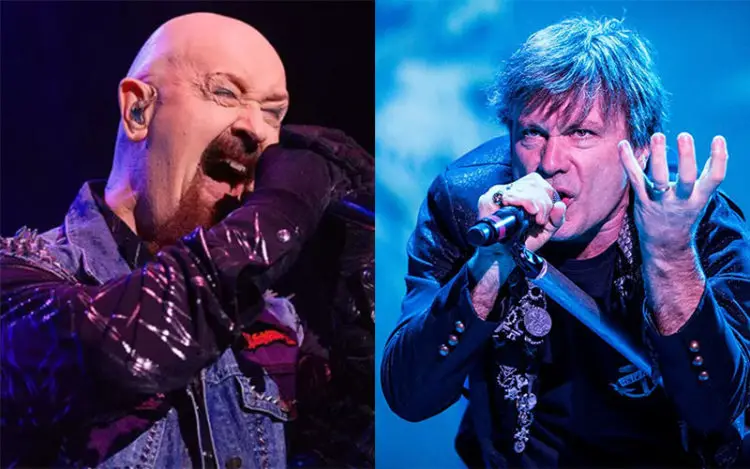 It has been reported that one of the much-anticipated tours of all time "The Battle Of The Metal Gods", co-headlined by British heavy metal icons IRON MAIDEN and JUDAS PRIEST, is rumored to be taking place at U.S. arenas next year. It should be noted, however, that this information has not been officially confirmed by either band, nor their managers or associates.
An IRON MAIDEN and JUDAS PRIEST tour has been rumored for about two years now, with support given by thrash metal legends TESTAMENT (who have played with MAIDEN and PRIEST numerous times before) and some other undisclosed bands. This rumor first started back in May of 2019, shortly after PRIEST bassist Ian Hill spoke to Audio Ink about a possible collaboration with MAIDEN: "There's always the big question of JUDAS PRIEST and IRON MAIDEN. That would be really interesting if we could get that together before some of us die. It'd be great! [Laughs] There are a lot of other bands we've played with. We've got URIAH HEEP, specials guests on this tour. I was a fan of URIAH HEEP way back in the day. They go back at least as long as we do, if not a bit further You run into these people over the years. We've played with quite a few of them, but we've got to get together with IRON MAIDEN."
Rumors that IRON MAIDEN and JUDAS PRIEST would tour together resurfaced last April when Eddie Trunk "announced" that both bands would embark on a U.S. tour this year called "The Battle Of The Metal Gods", with LAMB OF GOD, TESTAMENT and METAL CHURCH as the supporting acts, and that the trek would include "as many stops as possible, including L.A., New York, Las Vegas and even Canada." These claims were later revealed to be an April Fool's Joke.
If an IRON MAIDEN and JUDAS PRIEST tour does become a reality, it would've been the first time since 1982 that these legendary metal bands have toured together; back then, MAIDEN and PRIEST were riding high with their hit albums The Number Of The Beast and Screaming For Vengeance respectively.
IRON MAIDEN have not issued any new music since 2015's The Book Of Souls, but they have reportedly finished follow-up record that is due to be released later this year. JUDAS PRIEST have also been working on a new album, which will be the follow-up to 2018's Firepower and will reportedly once again be produced by Andy Sneap.
JUDAS PRIEST have postponed most of their previously announced fall 2020 U.S. tour dates to the summer/fall of 2021. Tickets and dates for the tour can be find here.