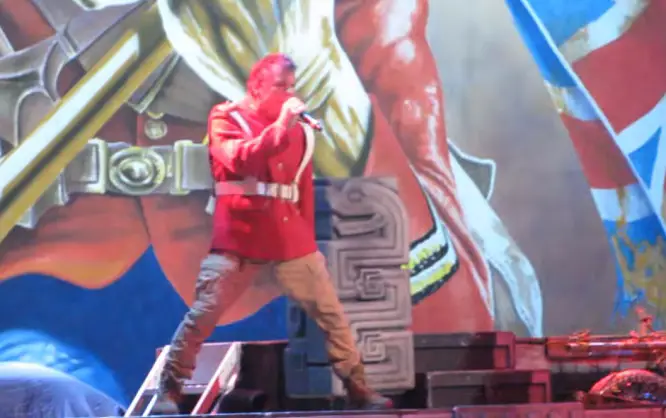 IRON MAIDEN made their highly anticipated first-ever visit to china on "The Book Of Souls" world tour at Beijing LeSports Center on Sunday, April 24.
The band were forced to made some changes in the performance at the request of China's Ministry of Culture, which had to approve all of the band's lyrics prior to MAIDEN's Chinese dates being confirmed.
These are the changes:
* There were no pyrotechnics used during the show.
* During the performance of "The Trooper", IRON MAIDEN singer Bruce Dickinson did not wave a Union Jack flag, but, as can be seen in the video below, he still sported the red coat uniform worn by troops during the battle which inspired the song and waved an "invisible" flag while singing the track. In addition, the Union Jack flag was still prominently displayed on the backdrop during MAIDEN's performance of the song.
* Bruce changed the lyrics to the chorus of the song "Powerslave" from "Tell me why I had to be a Powerslave" to "Tell me why I had to be a Wicker Man."
* IRON MAIDEN was not allowed to throw stuff (wristbands, drum heads, etc.) into the crowd during the concert.
* Bruce didn't swear and had to be careful not to use the "F" word.
The band's setlist was as follows:
01. If Eternity Should Fall
02. Speed Of Light
03. Children Of The Damned
04. Tears Of A Clown
05. The Red And The Black
06. The Trooper
07. Powerslave
08. Death Of Glory
09. The Book Of Souls
10. Hallowed Be Thy Name
11. Fear Of The Dark
12. Iron Maiden
13. The Number Of The Beast
14. Blood Brothers
15. Wasted Years
Fan-filmed video footage of the show can be seen below.