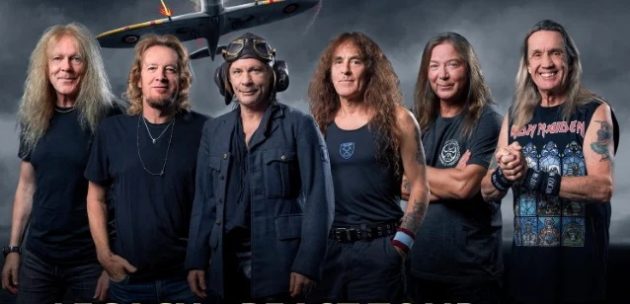 IRON MAIDEN are definitely up to something, and we all hope is the announcement of new album.
Last month, Bruce Dickinson conducted an interview with Sky News promoting his August 2021 spoken word tour.
Although his interview headlines for speaking about Brexit's impact on touring during the interview, he was intriguingly wearing a T-shirt emblazoned with the words 'Belshazzar's Feast' in a decidedly heavy metal font.
IRON MAIDEN fan and journalist Edwin McFee pointed out on Twitter on Monday that Belshazzar's Feast is the story of the writing on the wall in the bible.
Later, McFee shared a photograph of a mysterious poster that appeared at the Download Pilot festival earlier in June that's exactly the same as Bruce Dickinson's T-shirt. It's one of numerous Belshazzar's Feast posters that appeared at the event.
On closer inspection the poster features the words 'Live Forever', 'Man or Beast' and 'Heaven or Hell' with the date 15/7 — possibly pointing towards something happening on Thursday 15th July, maybe new album announcement, and maybe even followed with a new single.
The poster also contains the Roman Numerals IMXVII, which McFee argues in Hot Press could stand for Iron Maiden X 17 – IRON MAIDEN's 17th studio album.
The band also tweeted before England vs. Ukraine game on Saturday (3rd July) was a photo of England's No.17 (alluding to album No.17?!) Jadon Sancho along with the caption: "I wonder whether we'll see this guy on the pitch…"
This week, IRON MAIDEN have continued to fuel speculation by posting snippets of songs as Instagram stories accompanied by images of the albums the tracks are lifted from.
On closer inspection, the album sleeves features tiny clues alluding to WOTW (Writing on the Wall) and the Belshazzar's Feast image. See all images below.