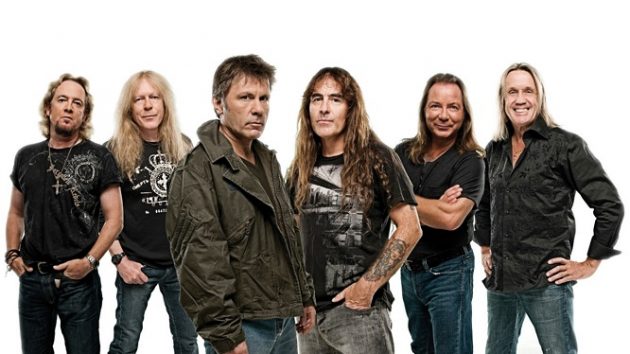 According to Telegraph, IRON MAIDEN were forced to remove the song "Hallowed Be Thy Name" from their current setlist due to a legal dispute and accusations that the track plagiarizes BECKETT's "Life's a Shadow."
Retired rock band manager Barry McKay is taking Steve Harris and Dave Murray to court over the song.
The court writ alleges that classic MAIDEN track "Hallowed Be Thy Name" contains verses of lyrics written by Brian Quinn in 1969 which originally appeared on a song called "Life's Shadow" which was recorded by Newcastle band BECKETT.
IRON MAIDEN said on the matter: "As previously announced, for the current second leg of the 'Book of Souls' tour a couple of changes to the setlist were due to be made. The first was including a different track from the new album and having been made aware of a legal claim, the second change was to replace 'Hallowed Be Thy Name.'"
Phantom Management issued the following statement: "The dispute concerns the song 'Life's Shadow', a song originally written in the early 1970s, credited to Robert Barton and Brian Ingham, and recorded by the band BECKETT. Steve Harris was a fan of BECKETT and some six lines from 'Life's Shadow' were referenced in Steve's song, 'Hallowed Be Thy Name'.
"As far as Steve is concerned, this matter was settled some years ago by agreement with Robert Barton. Any evidence presented by Mr McKay will be looked at very closely and a defence at court will be submitted in due course."
You can compare the lyrics below, as well as listen to entire "Life's Shadow" song.
Life's Shadow" lyrics:
Mark my words my soul lives on
Please don't worry cause I've have gone
I've gone beyond to see the truth
While I consider my new youth
When your time is close at hand
Maybe then you'll understand
Life down there is just a strange illusion
"Hallowed Be Thy Name" lyrics:
Mark my words believe my soul lives on
Don't worry now that I have gone
I've gone beyond to seek the truth
When you know that your time is close at hand
Maybe then you'll begin to understand
Life down there is just a strange illusion
https://youtu.be/J51LPlP-s9o