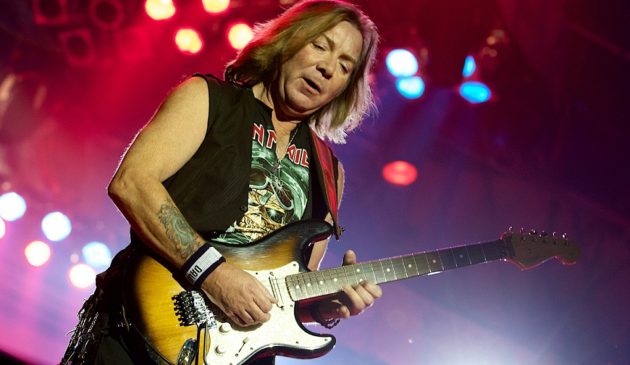 After more than 40 years in the metal scene, there's been talk that IRON MAIDEN would be calling it quits after its "The Book of Souls Tour", which comes to Glen Helen Amphitheater in Devore Saturday, July 1. But guitarist Dave Murray has something to say about that.
Dave Murray says that IRON MAIDEN has no plans to retire after the completion of the band's "The Book Of Souls" world tour. Dave stated: "We're not stopping after this tour; this isn't the last tour by any means. We're going to finish this one out, which we're having a lot of fun [doing], and then we're going to take some time off and next year there's going to be some surprises."
When asked how he would feel if IRON MAIDEN suddenly came to an end, Dave Murray said: "If it was to finish tomorrow, I think I could say quite honestly that I've been very happy and very lucky and have done everything, enjoyed most of it, because of all the places we've traveled to, you'd never go there. We're lucky enough in that respect to see the world several times over by being on tour. That in itself has been a great experience and also playing music and being able to express ourselves in a melodic form, an aggressive form and just have fun with that. The future, there's still things to do so you just keep inventing new things all the time, try to create new things every day."
Recently Fine Brothers Entertainment has released a video of kids reacting to IRON MAIDEN. Check out their reactions here.
"The Book Of Souls" is IRON MAIDEN's first ever double studio album and their most successful chart-wise to date, debuting at the No.1 spot in over 40 countries around the world and No.4 in the USA.