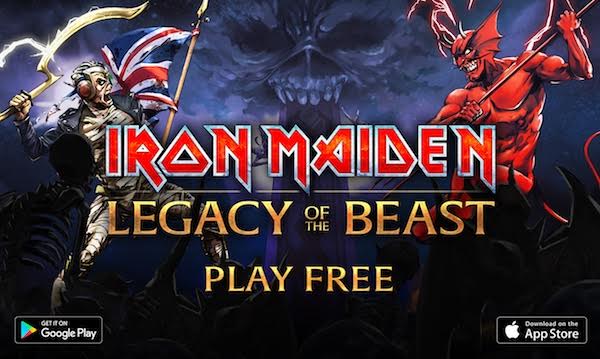 The wait is over! Metal and RPG gaming fans can now download Iron Maiden: Legacy of the Beast, the action-packed, free-to-play mobile game where players take on the role of the band's iconic mascot, Eddie. Available today from Apple's App Store and Google Play, the teams at Nodding Frog, 50cc Games and Roadhouse Interactive have created a new and unique gaming experience in close collaboration with the band and its management team, Phantom Music Management.
The game is set in a visually stunning universe, comprised of an ever expanding series of worlds derived from Iron Maiden's music and art. Players will journey through epic quests to reclaim the shards of Eddie's shattered soul as he faces his most challenging adversaries, including The Beast, The Wicker Man, Horus and The Axis General, all set to a powerful and atmospheric Maiden soundtrack.
Steve Harris, Bassist and founder member of Iron Maiden comments, "We've always wanted to make a quality Maiden mobile game as we think the combination of Eddie and the music is so well suited – and it's a great way to get our music out to a new audience! When the opportunity arose to make a mobile game which our fans, along with hopefully a lot of the gaming community, can play pretty well anywhere in the world, we jumped at it. The whole band visited Roadhouse while touring through Vancouver back in April and we were so impressed by the creativity, enthusiasm and passion of the team there. Visually, the worlds and character designs do us proud and the music just ties it all together."
In Iron Maiden: Legacy of the Beast, players take control of Eddie's destiny across a spectacularly diverse array of worlds by traveling through time in captivating 3D environments. Eddie appears in many forms, each a part of Iron Maiden's rich history, and each with a set of special powers and abilities. Fans will also hear rare, previously unheard live recordings of Iron Maiden classics adapted for the game under the close scrutiny of bassist and founding member Steve Harris.
For more information please visit www.ironmaidenlegacy.com