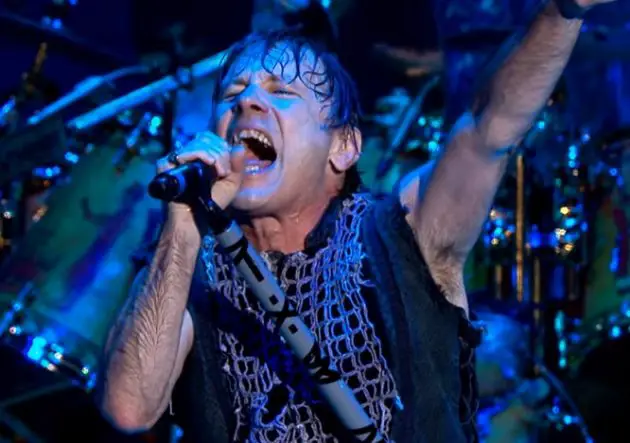 IRON MAIDEN are definitely cooking something and their ragle-eyed fans are speculating whether the British heavy metal legends are about to announce their 17th studio album.
This past Monday, Bruce Dickinson conducted an interview with Sky News promoting his August 2021 spoken word tour.
Although his interview headlines for speaking about Brexit's impact on touring during the interview, he was intriguingly wearing a T-shirt emblazoned with the words 'Belshazzar's Feast' in a decidedly heavy metal font.
IRON MAIDEN fan and journalist Edwin McFee pointed out on Twitter on Monday that Belshazzar's Feast is the story of the writing on the wall in the bible.
McFee also noticed that the initials 'WOTW' — writing on the wall — are written next to IRON MAIDEN's mascot Eddie the Head on the recently unveiled poster for The Legacy of the Beast Tour 2022.
Later, McFee shared a photograph of a mysterious poster that appeared at the Download Pilot festival earlier in June that's exactly the same as Bruce Dickinson's T-shirt. It's one of numerous Belshazzar's Feast posters that appeared at the event.
On closer inspection the poster features the words 'Live Forever', 'Man or Beast' and 'Heaven or Hell' with the date 15/7 — possibly pointing towards something happening on Thursday 15th July, maybe new album announcement, and maybe even followed with a new single.
The poster also contains the Roman Numerals IMXVII, which McFee argues in Hot Press could stand for Iron Maiden X 17 – IRON MAIDEN's 17th studio album.
And what's even more intriguing, IRON MAIDEN aficionado Frank Turner conducted an interview at Download Pilot, and he was asked whether he's excited about rumours of a new MAIDEN album being "in the can."
And check this out, as soon as interviewer asks about MAIDEN, Turner smiles and turns to the camera to reveal a Belshazzar's Feast T-shirt. This can't be a coincidence, right?
Skip to the 9 minute mark to see it:
And just night (June 30th) IRON MAIDEN drummer Nicko McBrain's BBQ restaurant Rock N Roll Ribs have shared an image tonight (30th June) of Eddie The Head outside the restaurant with a Belshazzar's Feast poster in the background!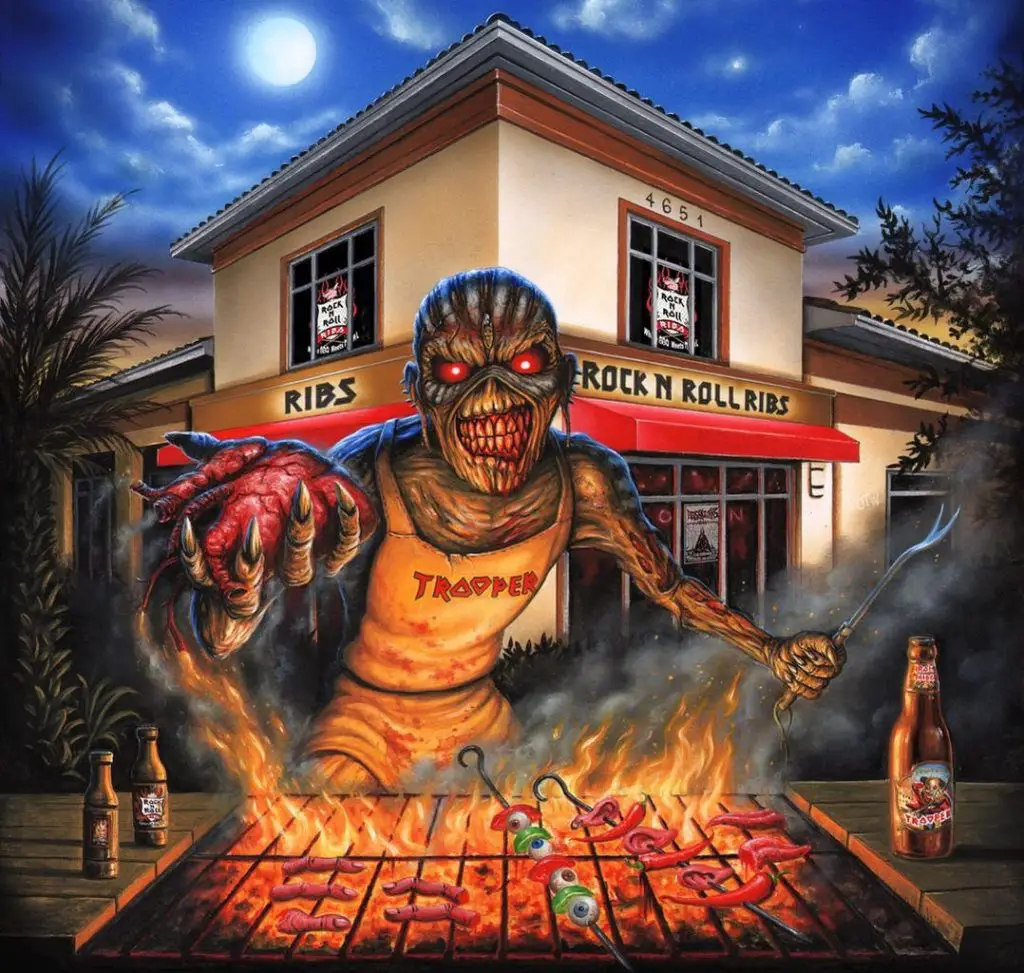 IRON MAIDEN have not issued any new music since 2015's The Book Of Souls, but they have reportedly finished follow-up record that is due to be released later this year.