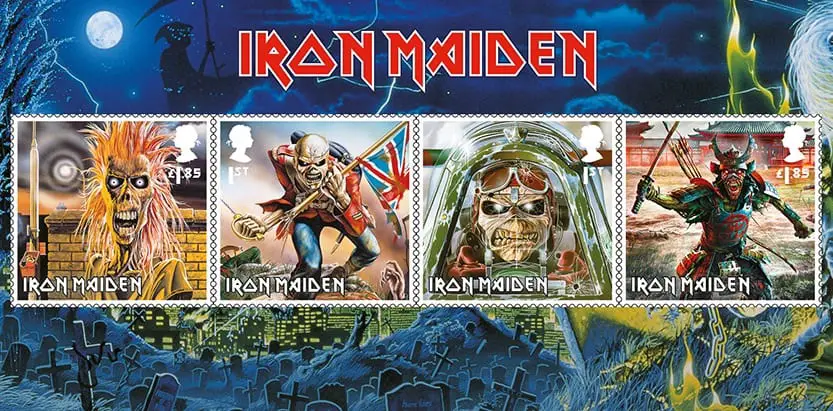 On January 12th, the UK's Royal Mail will honor IRON MAIDEN with a commemorative set of stamps! These eight individual stamps portray the iconic British metal band in different eras and styles throughout their career. Additionally, there is an accompanying four-stamp sheet featuring Eddie –IRON MAIDEN's mascot– to commemorate this monumental event.
On the live stamps, you can see a Bruce Dickinson photo snapped during London's Hammersmith Odeon show on their 1983 World Piece tour and two more from the 2018 Legacy of The Beast Tour. Similarly, four Eddie-adorned stamps are featured with his image taken from MAIDEN's debut album cover as well as their 2021 Senjutsu LP plus "The Trooper" and "Aces High" single sleeves.
MAIDEN bassist Steve Harris comments: "We were all absolutely astounded — in a good way! — when we heard first about the commemorative project, and equally pretty much speechless when we saw the stamps for the very first time. They look superb and I think they really capture the essence and energy of MAIDEN. We're all very proud that the Royal Mail has chosen to honor the band's legacy like this and we know our fans will feel the same way."
MAIDEN manager Rod Smallwood said: "As a band who have never played by anyone else's rules for over 40 years, it's very gratifying to see them honored in their home country in this way.
"We're proud to show how these six band members are still appealing to more and more fans every year with their music and their legendary shows — which I think these stamps really capture well. It's also fantastic that Eddie has been honored too. It's incredible to think that Her Majesty, may she rest in peace, saw these and lent her iconic silhouette to them too."
David Gold, director of external public affairs and policy at Royal Mail, said: "Few bands in the history of rock music can be called bona fide rock legends, but IRON MAIDEN are just that — and more."