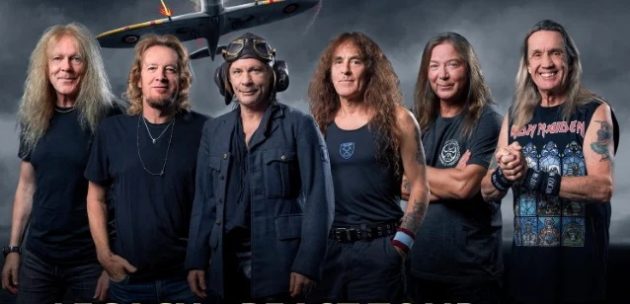 British Heavy Metal legends IRON MAIDEN are trailing behind FOO FIGHTERS, Tina Turner and Nigerian Afro beat pioneer Fela Kuti in the fan vote for 2021's Rock And Roll Hall Of Fame induction class.
As of earlier today, Fela Kuti received 151,363 votes; Tina Turner 132,967; FOO FIGHTERS 98,871; and IRON MAIDEN 86,825.
The top five artists, as selected by the public, will comprise a "fans' ballot" that will be tallied along with the other ballots to choose the 2021 inductees.
According to the Hall Of Fame, the IRON MAIDEN members that would get inducted would include the current lineup of singer Bruce Dickinson, bassist Steve Harris, drummer Nicko McBrain, and guitarists Adrian Smith, Dave Murray and Janick Gers, along with former singer Paul Di'Anno, former drummer Clive Burr, and former guitarist Dennis Stratton.
In a 2019 new interview with Rolling Stone, IRON MAIDEN bassist Steve Harris says that he doesn't care that British heavy metal legends have yet to be inducted into the Rock And Roll Hall Of Fame despite the fact that it has been eligible since 2004.
"I don't mind that we're not in things like that," he said. "I don't think about things like that. It's very nice if people give you awards or accolades, but we didn't get into the business for that sort of thing. I'm certainly not going to lose sleep if we don't get any sort of award, not just that one, any award. I don't think we deserve to have this or that necessarily. With what we do, whatever comes of it is great. Whatever doesn't come of it is great, too."
Bruce Dickinson previously slammed the Rock And Roll Hall Of Fame, saying that he is "really happy" Iron Maiden has not yet been inducted.
Dickinson described Rock Hall as "an utter and complete load of bollocks run by a bunch of sanctimonious bloody Americans who wouldn't know rock and roll if it hit them in the face."
In an interview with The Jerusalem Post, Dickinson said: "I was so annoyed with that coverage because they took my statement out of context to make it seem like I was upset that we weren't in the Hall Of Fame.
"I'm really happy we're not there and I would never want to be there," he continued. "If we're ever inducted, I will refuse — they won't bloody be having my corpse in there.
Bruce added: "Rock and roll music does not belong in a mausoleum in Cleveland. It's a living, breathing thing, and if you put it in a museum, then it's dead. It's worse than horrible, it's vulgar."