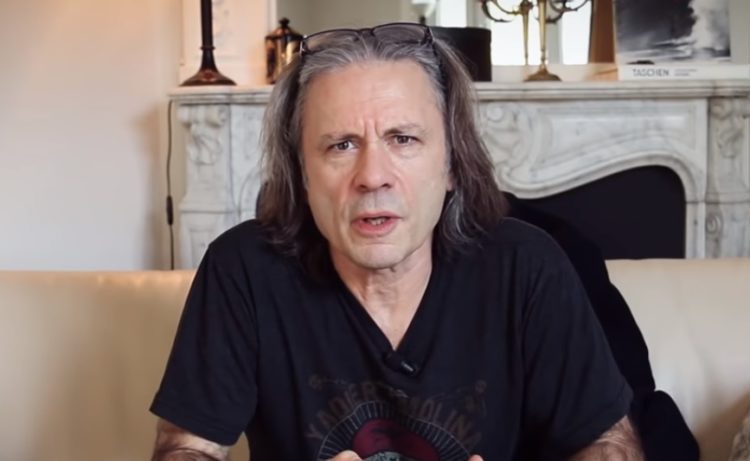 In a new interview with Forbes, IRON MAIDEN frontman Bruce Dickinson talked about his recent battle with COVID-19.
"I'm absolutely fine," he said. "Literally, I'm just waiting for these little lateral flow test things that you have to do, self-testing. I'm taking those every day, I'm thinking of making a collage out of them or something at the end. I don't know. It's just going through whatever it is, the 10-day isolation at home because I did get COVID. I tested positive for it, just like a week yesterday, basically. And I've been absolutely fine. I have the same symptoms that you would get from like a… you feel a bit s**tty for two or three days, you sweat a bit, you have a bit of a stuffy nose, a small cough in my case and my sense of smell kind of went AWOL, but it's kind of coming back now.
Bruce continued: "I'm not particularly a vaccine skeptic in the slightest. I've had both doses and if somebody wants me to have another couple, I'll be first in the queue because I think I would have been probably potentially a lot more sick had I not been vaccinated. Me and my partner, I had the Pfizer vaccine, she had the AstraZeneca, we both got sick. She's over it all. Basically, I'm pretty much over it now, I'm just waiting for my little test to go negative before I unleash myself on the supermarket.
"I'm absolutely fine, honestly," he added. "Just about everybody I know who's been vaccinated and has had this has had really mild side effects. I know a few people that haven't been vaccinated and have had it and they're not so happy. Even if they haven't died — God forbid — but they've not been well for quite a long period of time afterwards. And that's not just people who are over 50 and stuff — this is young people, 30 and under, extremely healthy — just didn't happen to get the vaccine in time perhaps and got sick with it.
"They'd been out for two, three weeks. It's a nasty bug and if you can avoid getting it, I'd avoid getting it. And if you did get it, make sure you've had the vaccine when you do get it. And most of us may very well get it at some point."
IRON MAIDEN will release their 17th studio album, Senjutsu, tomorrow (Sep. 3) via Parlophone/BMG Records. You can order album via Amazon here.