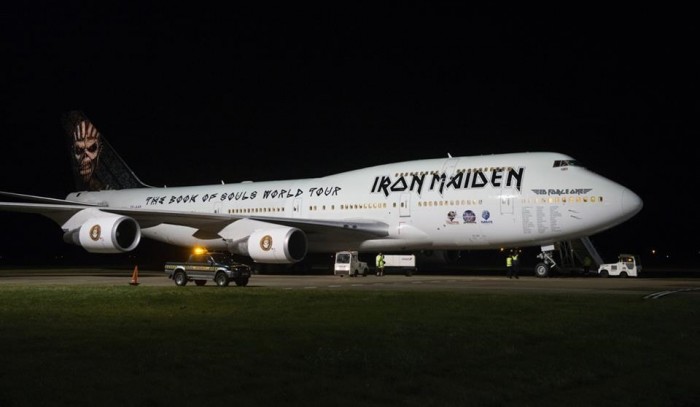 IRON MAIDEN have posted photos of their branded private tour plane, called Ed Force One, after it landed at the airport in Cardiff, Wales, United Kingdom. Ed Force One is named after the band's mascot Eddie. Plane is piloted by the MAIDEN frontman Bruce Dickinson. Besides photos, you can also see video footage of plane arriving at the airport below.
Band comments:  "Ed Force One, our new 747 jumbo, is all branded-up, ready to go and Bruce has his shiny new 747 type rating so he can fly the plane. As we initially announced, we'll be using Ed Force One right around the world as usual but also including the first few shows in Europe this time, making this the first time EF1 has visited Europe on tour."
"However, after the Swedish show at Gothenburg Ullvei Stadium on June 17, we'll be reverting to our traditional truck and bus touring methods as logistically this makes much more sense considering the lesser distances involved and airport parameters."
IRON MAIDEN's world tour, in support of the band's latest album, "The Book Of Souls", kicks off on February 24 in Florida.
https://youtu.be/HieCLw90EJw