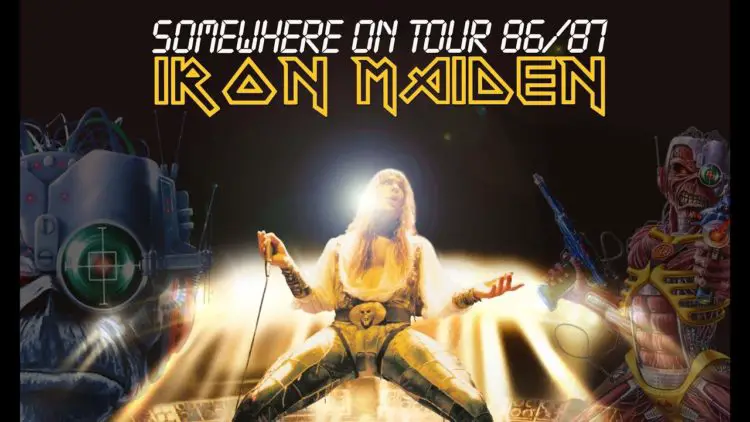 Back in the day, "Somewhere in Time" was not exactly praised as a good album. On the contrary, some critics were really hard on it because of the synth guitars and futuristic themes. You, today kid, may be it odd, but in the 1980s all kinds of critics used to review albums. There were a few metal magazines and miscellaneous magazines used also to review Metal albums. Well, you may notice what usually happened. Metal wasn't – it isn't until now -, the most lovable musical genre on earth. But nevermind, let's go back to  "Somewhere in Time" and its tour, shall we?
For really a long time, people didn't exactly know why there was no video footage of it. As a matter of fact, some may have thought that it was due to the lack of experience on video footage, but to remind you "World Slavery Tour" was a big hit. Well, Mr. Harris can explain better than I do. Let's hear what the man has to say:
"What I remember most about the "Somewhere In Time" tour was having an argument with Rod [Smallwood, Maiden's manager]. I wanted to film the tour and he wasn't having any of it," Steve grumbles. "I said, 'We've got to film the tour!' but he wasn't into it. [impersonating Rod] 'Noooo, we don't need to film the bloody tour!' Of course, later on he ended up saying, 'Oh, I wish we'd filmed the tour…', ha ha! But it was a great-looking tour. It looked fantastic, but we've got hardly any footage of it anywhere. We filmed the video for "Stranger in a Strange Land" at Sheffield City Hall, but apart from that we haven't got much at all. But what can you do? I rest my case, Rod, ha ha ha!"
Well, against all the odds, the tour, inevitably titled "Somewhere On Tour," kicked off in Belgrade in September 1986, two full weeks before the album's release, and its eye-frazzling, futuristic imagery and giant cyborg Eddie proved to be an immediate hit with Maiden's rapidly expanding global audience.