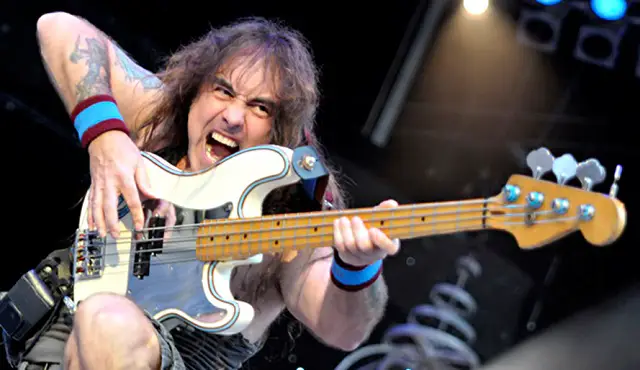 Yeah, my child of the night even the mighty basist Steve Harris has something to be ashamed of. Well, it is his opinion.
During an appearance on The Eddie Trunk Podcast, Iron Maiden bassist and bandleader, Steve Harris, discussed the art of songwriting, while also touching on his side project British Lion, 1982's "The Number of the Beast," Bruce Dickinson, and more.
Read here what he said:
"You know, I don't really have an answer for that. I think it's something you have to have a go at and try, which is what I did. I tried it, I didn't really think too much whether it's going to be good or not.

"I just thought I needed to write some songs, and it just works, but I don't really know how or why. I think some people just have a knack for it, some people don't.

"I do find it a bit strange, really, you have people who are fantastic technical players and yet they don't write songs. I find that really odd. I don't know, if everyone wrote songs it wouldn't be a good thing either.

"I mean, the guys at British Lion, for example, they're all really good writers; and Maiden too, they're really strong writers too."
Do you remember the very first song you wrote?
"Yeah, it was a song that ended up being called 'Endless Pit,' which is an awful title. But it ended up being the riff I used for 'Innocent Exile' which made it onto a Maiden album [1981's 'Killers,' the band's second full-length studio release].
"The title was poor, but it was the first that came to mind with the melody, and that's what really kickstarted me with, I mean, melodies for vocals, and I just tried to fit words to it.

"And I think I got better later on. I worked more at getting the words better. It works, I think. After people listen to stuff, they don't know the stuff to start with so they listen to the melody first before they know the words.

"And of course, these days Maiden's a global thing anyway, so it's the melody, that's what it's about, but you still have to add decent words."
What's often amazed me – and I see it so often – it's very common for artists to have a side project of some sort, you really are almost starting all over again from the ground up, aren't you? I think a lot of fans assume, 'It's Steve Harris from Iron Maiden, 10,000 people are going to turn up immediately and sell a bunch of records.' It's not like that.
Yeah, of course, it doesn't work like that. In fact, we're [British Lion] a prime example of that, we played in Europe, some shows in Germany – and we already played a couple of tours in Germany before that, so the promoter thought my name is gonna sell it.

"We didn't take anything for granted with British Lion – in Maiden either, you just can't take it for granted no matter what level you're at. We didn't promote it and we had 95 people in there, which is fine. We still played the gig and, in fact, we had to try harder."
Do you wish that Maiden had, like, three or four classic rock radio hits or do you prefer it this way?
"I think that for longevity it's probably best that you don't have that. It's not just something, like, a fleeting moment or whatever, but our fans are not like that anyways, they support anything we do, I suppose we live to tell the tale.

"You're not gonna turn it down, are you? I mean, if someone is gonna play you on a radio… but we never really had any [radio hits], and we never expected it, so that's it, really."
You have had bonafide hits in other parts of the world, like, 'Can I Play With Madness' and things like that were actually pop hits, right?
"I wouldn't say they were really in that sense of the word because what happens is: our fans used to go out and buy them and they would go straight in the chart in the first week, so they didn't stay in the chart for very long, three-four weeks tops, really, and straight back down again. Not really true hits in a true sense of the word."
What I always found amazing about 'The Number of the Beast' is that it's incredibly rare that you have an album that is so iconic – not only for the band but just in the genre – and the song that's been played the least is the first song on the record, 'Invaders.'
"I don't think it's – and I can say that because I wrote the song – I don't think it's one of my strongest songs, really. I think it's alright, it's not a bad song, but it doesn't stand out to the rest of the album.

"When you're making the album at the time, you don't really think if one's better than the others, you get a genuine feeling. I also thought that 'Gangland' was supposed to be a B-side or a single and 'Total Eclipse' should've been on the album."
Have you guys played 'Invaders' live ever?
"Yeah, we did, back in the day, yeah. It's not a bad opener. I think it's because it's a fast-paced song, we just felt it will open the album well, sort of in-your-face, really.

"Looking back, I think… we don't really look back that much, really, an album is a statement of where you are at the time and that's the end of it."
Do you foresee another new Iron Maiden studio album?
"We talked about it fairly recently and Bruce [Dickinson, vocals] was saying to me, 'How many albums do you wanna do?', and I said, 'Well, it's up to all of us.' But I think everyone's keen to do more stuff, so I'm sure there will be more albums in the future."
Bruce is doing well, right? People are amazed at how well he's singing on this tour.
"He's doing great, he's enjoying life, yeah, it's all good."