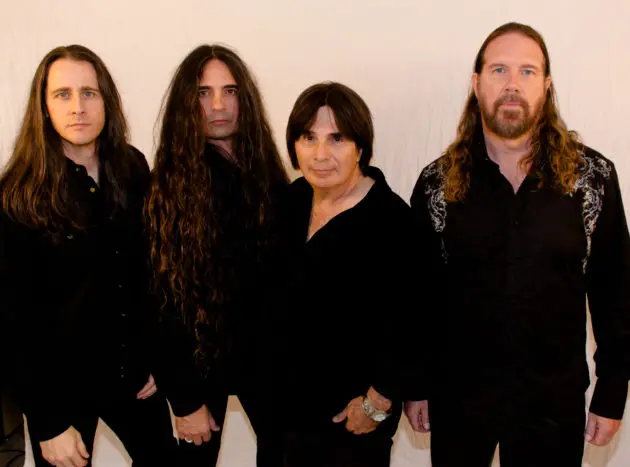 Jack Starr is one of the unsung heroes of Heavy Metal. Born in Paris, he learned to play guitar by ear, copying the riffs of traditional rhythm & blues records. His first semi-professional band was called "Starr System," where he was joined by two future Trust members, drummer Jeannot and Petit Pois (of Les Variations). In America, Starr emerged on the rock and metal scene in 1981, forming the first incarnation of Virgin Steele, along with vocalist David DeFeis. He played on Virgin Steele (1982) as well as "Guardians Of The Flame" (1983), which many old time fans still consider to be the best Virgin Steele albums ever (along with the later "Noble Savage").
In 1985, the guitarist founded his own band JACK STARR'S BURNING STARR and issued his first solo album entitled "Rock The American Way." Over the coming decades, Starr participated in various projects like Devil Childe, Phantom Lord, Thrasher and Strider.
"Stand Your Ground" is the name of his seventh solo album, issued by High Roller Records.
"Stand Your Ground" will be issued on August 25th.
Jack Starr commented the album:
"It's an old school type metal album with modern production and great songs," comments Jack Starr on "Stand Your Ground." "In my opinion, it is one of the best metal albums in the last twenty years. I think that if we could go back in a time machine and put out this album in 1988, it would sell millions of copies but even though it is 2017, I think it will still do very well."
Jack Starr continues comparing "Stand Your Ground" with its predecessor "Land Of The Dead" from 2011 (featuring Ross The Boss and David Shankle of Manowar fame):
"I think the new one is more diverse and has many more influences and also it is much longer. I think I am playing better guitar solos, Todd Micheal Hall is singing better, Ned Meloni on bass is playing the best of his career and the comparison that comes to my mind is Steve Harris. Ned is playing with passion and speed like Steve Harris and also getting a great sound like Steve Harris and as far as Rhino, there is nothing to say because he always plays great and this album is a continuation of this incredible drumming style that he as perfected. My favorite song on the album is 'Stand Your Ground', the title cut, I have played this one for a few people and the reaction has always been the same, it seems that the listener is very surprised that even though the song is eleven minutes long, it passes very quickly and is not repetitious. "Stand Your Ground" has so many twists and turns and changes within the same song, it is like a mini symphony!"
Read our review here.