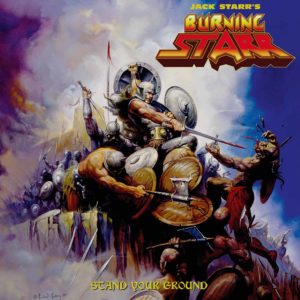 It's not always that we have such a big shot artist here on Metal Addicts to review. It's a honor to review Jack Starr's Burning Starr "Stand Your Ground," who is one of the most influential metal guitarists ever. Italian power metal bands can tell it better. Jack Starr is like a god there. And listening to "Stand Your Ground" makes us understand why. Jack Starr is an old school guitarist who puts emotion first. It doesn't mean that he's not technically gifted. It's the otherwise, his playing is very technical. Each note is in its right place. Not a cascade of notes that some are used to. "Give me a bunch of pentatonics and I'll conquer the world" should be Jack Starr's motto.
There's great deal of emotion, passion and heart since the beginning of "Stand Your Ground." The opening track, "The Secrets We Hide," features a singer doing very well the job of leaving his passion through the musical notes. "The Secrets We Hide's" allegro tempo does the trick well. All the tracks are very well cared of. "Stand Your Ground," for instance, is about ten minutes long. It's an epical song as the title says itself with lots of naturally put instrumental passages. The main riff is that guitar galloping that made Iron Maiden famous, which gives an even more epical vibe to it. The guitar solos are as usual well writen showing all Jack Starr's technique and skill. BTW, don't get fooled by the end of "Stand Your Ground!" It sounds as another song but it isn't. As we're talking about emotion, "Destiny" is full of them. A very catchy tune, and the chorus are really familiar but I can't remember which song it keeps reminding me. Neverthless, a great song. The same to "We Are One."
We can notice that Jack Starr was very inspired on recording "Stand Your Ground," as it is more than an hour long in twelve tracks. A rarity these days. What else is there to say about "Stand Your Ground?" Just check it out! You won't be disappointed. Jack Starr's Burning Star at their best.
Track Listing:
Secrets We Hide
The Enemy
Stand Your Ground
Hero
Destiny
The Sky Is Falling
Worlds Apart
Escape From The Night
We Are One
Stronger Than Steel
False Gods
To The Ends
Jack Starr's Burning Starr "Stand Your Ground" will hit the streets on August 25th via HighRoller Records.
Watch the official video of "Sands Of Time" here: