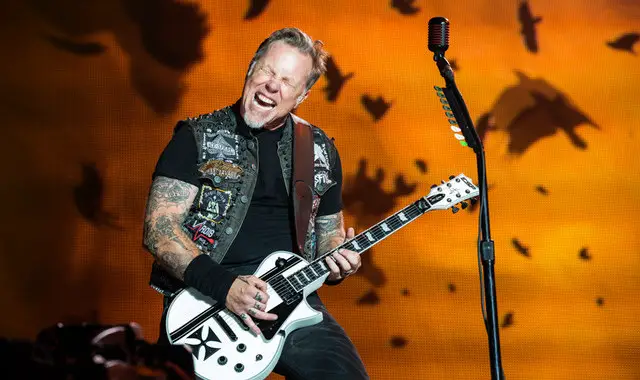 In a new interview with the 94.5 The Buzz radio station in Houston, James Hetfield spoke about Rob Trujillo's contributions to METALLICA. Watch the video below. James stated:
"We were just talking about this the other day in the car. Actually, we just played [a benefit concert for] the Native Fund in Iowa, and I don't know what Robert was doing on his solo thing that night, but afterwards I just went up to him and I said, 'Dude, that was awesome! I don't know what you did different, but it was so clear, precise and so good.'"
"And he's, like, 'Oh, thanks.' You know, it's just a cool little thing, 'cause at that point, he's doing a solo and I'm trying to get my s**t together – breathe and stuff like that – 'cause I'm an old dude. But just talking about how Robert… Who else could [have come in and done the job]? I mean, there were a few people we auditioned, I know. It might have worked out with other people, but it's hard to find people that are, say, your age; kind of your upbringing, musically, obviously; ability-wise; they've been on the road. It's not like you're bringing some kid out for his first time, and it's, 'Oh my God! He's going through all the stuff that we did twenty-five years ago."
He continues: "He's got kids. He's married. It just gelled, and it's still gelling. And his personality is probably one of the best contributions, I think, to the band, 'cause he's so chill, he's so up for anything, he's always in there rehearsing. So he does fit in."
METALLICA's "Hardwired… to Self-Destruct" was released as a double album on November 18, 2016 by their vanity record label Blackened Recordings. It is their first studio album in eight years following "Death Magnetic" (2008), marking the longest gap between two studio albums in the band's career. It is also their first studio album not to feature songwriting contributions from Kirk Hammett since he joined the band in 1983, and their first studio album released through Blackened.