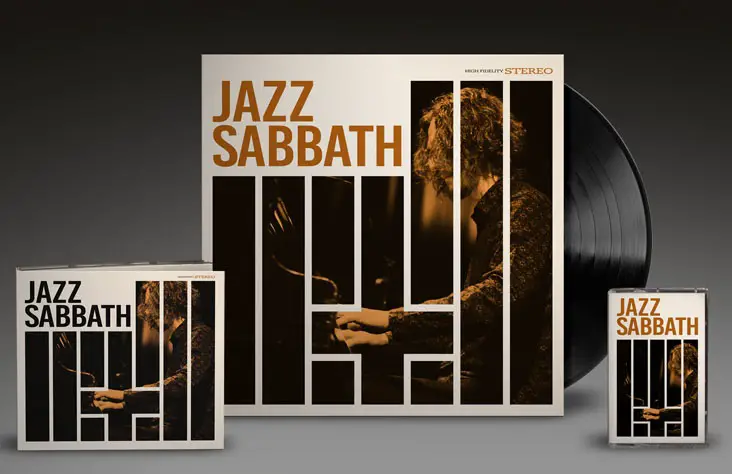 On April 10th JAZZ SABBATH's self-titled debut album will be released on Vinyl, CD, Cassette and all download & streaming platforms. Their story will surprise many, as the 7 songs featured on this album, recorded in 1969, have not been heard by anyone for fifty years, but they are knows by millions.
Ahead of the album, a JAZZ SABBATH documentary has been released online. In this documentary JAZZ SABBATH pianist Milton Keanes is interviewed by renowned actor Robert Powell, discussing the rise and fall of the jazz trio and the release of their debut album.
Robert also interviews a list of people, recalling their memories about seeing the band or hearing the bootleg tapes 40-50 years ago. Featuring (former) members of BLACK SABBATH, Ozzy Osbourne, MOTÖRHEAD, FAITH NO MORE, YES, THE RAMONES and many others.
JAZZ SABBATH (1968) were considered to be at the forefront of the new English jazz movement. Their self-titled debut album would be released on 13 Feb 1970, but on Feb 12th founding member and pianist Milton Keanes was hospitalised with a massive heart attack; leaving him fighting for his life. The record company shelved the album and cancelled the scheduled release out of financial uncertainty of releasing a debut album from a band without its musical leader.
When Milton was released from hospital in September 1970, he found out that a band from Birmingham, conveniently called BLACK SABBATH, had since released two albums containing so-called metal versions of his songs. His recalled albums had been destroyed in a warehouse fire in June 1970; leaving only a few bootleg tapes of JAZZ SABBATH's live performances as proof of existence.
As statement released by the band's label reads, "With the discovery of the original master tapes last year, Milton has a chance to set things right."
[bandcamp width=100% height=120 album=1342513070 size=large bgcol=ffffff linkcol=0687f5 tracklist=false artwork=small]