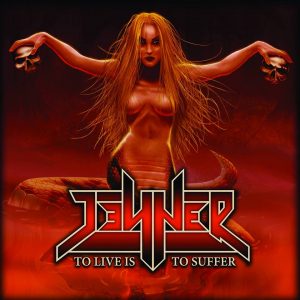 Here's an album tittle that I couldn't agree more. "To Live Is To Suffer" is pure and crystal reality. Nietzsche at his best. And girls get that better than us boys. Unfortunatelly, this world is no bed of roses and Jenner got it right. I mean, I don't know a better way to show one's disatisfaction than joining friends and setting up a Metal band. Much better than fooling around with guns and things.
Jenner's thing is the 1980s speed/thrash metal.  When listening to them it's impossible not to remember one of my beloved bands: Phantom Blue! Pardon me, "To Live Is To Suffer" could have been done by an angrier and faster Phantom Blue. And that's a serious compliment. The acid galloping guitars on "Hear The Thunder Roar" are awesome. The chorus is just what thrash is all about, a bit punky though, but that's the idea. Straight ahead sonorous punching. Boy, what a throat Anđelina Mitić has! The girl screams as if it were the last day of our lives. Best of all, she really knows how to sing when it's needed.
I really don't know many bands that blend things as Jenner did in "Demon's Call". I mean, it's indeed a speed/thrash metal song. My guess is that only Iron Angel could do so. Not to mention Anthrax. But Anthrax is a bit different. Aleksandra Stamenković's interventions were precise too. Her melodic, fast and insidious guitar solos give rare quality to "To Live Is To Suffer".
"To Live Is To Suffer" was also very well handled in the studio. We must recognize that. Songs like "On The Judgement Day" are very difficult to mix due to the vigorous sonic wall produced by Jenner. You can hear all the instruments perfectly. The masters of thrash, Anthrax, got a tribute in "How Deep Is Your Greed". Joey Belladonna could sing that way…
Track Listing:
Factory of Death
Hear the Thunder Roar
Demon's Call
The Heath is Coming Again
On the Judgement Day
How Deep is Your Greed
Silent Killer
Opened (On the Table)
You can listen to "To Live Is To Suffer" here: