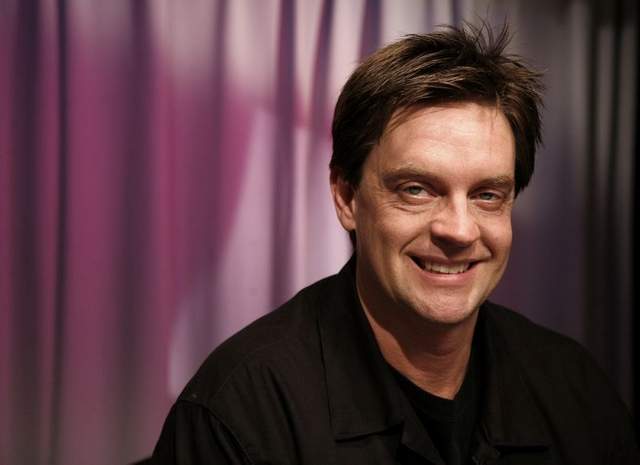 Comedian JIM BREUER threw a metal show in his garage and captured it all on film for his new video "Thrash". Following the announcement of his musical debut, JIM BREUER along with backing band THE LOUD & ROWDY have premiered their boisterous first video and you can watch it below.
Due out May 27th via Metal Blade Records, "SONGS FROM THE GARAGE" delivers comedy and masterful heavy music in a record that is unadulterated fun. You can also hear the first single, "Be A D**k 2Nite" below.
Breuer tells Loudwire: "'Thrash' pretty much wraps up what this project and album represents! This song is for people that grew up with rock and hard rock who now have families, but still love to take the time to throw down & thrash!" The track and video do just that. We find Breuer home alone letting loose when he decides to throw a metal show for the entire neighborhood. Madness ensues as the show-goers head bang and sing along to the anthemic track. Produced by Allison Woest and directed by David Brodsky along with Jim Breuer himself, the video provides pure entertainment and even includes an OZZY OSBOURNE impersonation.
The album features special guests such as Brian Johnson (AC/DC) who provides vocals on two tracks and Rob Caggiano (ANTHRAX, VOLBEAT) who produced the record and provided guitar. Backing Breuer up is THE LOUD & ROWDY with Mike Tichy on drums and Joe Vigliotti on bass. The inspiration for all of this comes from Breuer's adolescent immersion in the world of heavy music, falling in love with JUDAS PRIEST and AC/DC, alongside the likes of THE SCORPIONS, OZZY OSBOURNE, METALLICA, and VAN HALEN. The fire to start a band was soon lit under him, though he wouldn't begin his musical career until he was older. Having finally made the album that has been burning to get out of him since his teens, Breuer couldn't be happier with the result.
"SONGS FROM THE GARAGE" track-listing:
1. Thrash
2. Raising Teenage Girls
3. Old School
4. Be a D**k 2Nite
5. My Rock n Roll Dream *
6. Mr. Rock n Roll *
7. Who's Better Than Us?!
8. Family Warrior
9. Sugar Rush
10. Wannabe
11. The Unexplained
*Vocals by Brian Johnson (AC/DC)
[soundcloud url="https://api.soundcloud.com/tracks/257260548?secret_token=s-5nY2t" params="color=770303&auto_play=false&hide_related=false&show_comments=true&show_user=true&show_reposts=false" width="100%" height="166″ iframe="true" /]