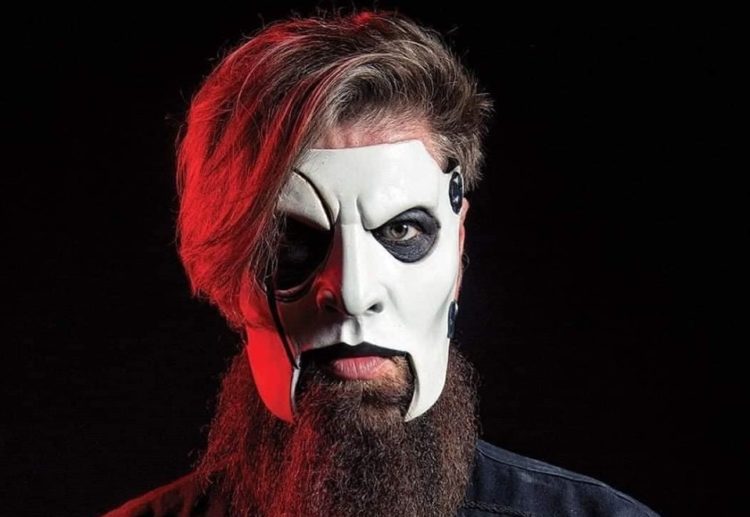 During his recent appearance on WMMR, SLIPKNOT guitarist Jim Root looked back on joining the knot back in 1999.
When asked if it's true that he initially refused joined the band, he responded: "Yeah. It was weird because I had given up playing guitar when I was like 24 or something like that, maybe 25. I haven't made it yet, I didn't even have a band, like, the thrash/speed metal band I was [ATOMIC OPERA] in split up, and I just kind of was down on myself about it.
"I didn't even own a guitar, I had to borrow one," he continued. "And a couple of friends of mine asked me to join, like, this project, a funk-rock kind of a weird thing. And that kind of got me back to playing guitar after being out of it for a couple of years, and back into the music scene.
"At that time, Anders [Colsefni, the original SLIPKNOT singer] had called me about replacing [original SLIPKNOT guitarist] Donnie Steele, and I said no at that time because I haven't been playing guitar and I knew that those guys were players.
"My chops were bad, I haven't even touched a guitar in years, so I was just kind of, like, 'Nah, I'm just going to be a regular d*ldo, work and do all that.' So I said no, but I got back into music with [the funk-rock project] and then shortly after that, I joined STONE SOUR [in 1996].
"And then after Corey [Taylor] joined STONE SOUR, SLIPKNOT had a record deal at that point, and when I told my band at that time that I was in a different band with my drummer Andrew.
"I told those dudes — I was living with the singer — I was, like, 'If SLIPKNOT ever called me, I won't join, I don't want to feel like it's handed to me, I got to feel like I worked for it, like something I've achieved.' And sure enough, they did. I never thought they would, so I said no.
"And then finally, I got to the point where I just realized, my buddy Zack, who borrowed me a guitar, said, 'What, are you stupid? Very few times in life do you get a chance to take a great step forward. Even if you fall flat on your face, you can always come back.' So I called Clown, and the rest is history."
SLIPKNOT released their sixth studio album, We Are Not Your Kind, on August 9 via Roadrunner Records. Album was once again recorded at a Los Angeles studio with producer Greg Fidelman, who engineered and mixed SLIPKNOT's 2004 album "Vol. 3: (The Subliminal Verses)" and helmed 2014's ".5: The Gray Chapter."