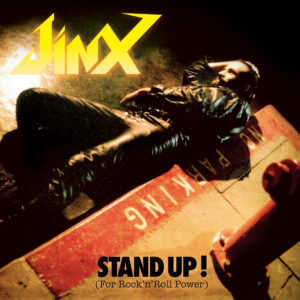 Ah, the diversity of the world of Metal music. One can go from the darkest black metal band to the jumpiest hard rock band in a finger snap. Of course if you have the guts for it. Most don't. I do. My last review was a black/thrash band. You know, sometimes you need to vary. Give your ears another kind of quality listening. The intent was to have something completely different, so here is Jinx and "Stand Up! (For Rock'n'Roll Power)," one more reissue of producer Bart Gabriel and No Remorse Records from the series of obscure and unknown French bands. An effort we have to praise.
For unknown reasons Jinx was forgotten in my computer. I guess I heard it once and for any reason I decided not to review that time. That's why I leave bands there. I give them time. Time heals everything, they say. Fair enough, don't you think? Well, my luck I do that. Jinx are a great band if you like an exciting, uptempo hard'n' heavy band. A thumbs up band, that's what Jinx are. That kind of band you can't find anymore. A real product of the 1980s. But timeless as good music and wine. There's some kind of early Van Halen in it. The same positive vibe. The same mix of rock'n'roll riffing and Metal only Van Halen could do as perfection. Well, not only, but you get me, don't you? It's hard to put in words the feelings you have with music. Well, "Young and Proud" does it better than I do.
Jinx could also write complex guitar riffing as in "Living in That City" showing that sometimes a band can be ahead of its time. In fact, this "Stand Up! (For Rock'n'Roll Power)" is a compilation of Jinx in three diferent moments of their short career. But you can't notice that. Jinx are a very linear band, for the better and for the worst. Well, I like that. It shows a band personality. Scarce thing these days. Not in Metal, I mean. In rock scene. Everybody seems to be looking to reinvent the wheel. Sorry, fellows, it is already invented.
Jinx are a great combination of Nazareth's Dan McCafferty like voice – it took me all this time to wonder who this voice reminded me – and complex and exciting guitar riffing. So, give Jinx one more try. I bet you won't regret it.
Jinx "Stand Up! (For Rock'n'Roll Power)" was released on September 29th, 2017, via No Remorse Records.
Track Listing:
Rockin' Band
Hold Up
Bad Boy
You Know (You Get Me Running)
Stand Up For Rock'n Roll Power
Never Ask Why
Young And Proud
Living in That City
Watch Your Blood
Very Bad
Dirty Love
Joe's Got It
Lawless Suzy
Moving Shadow
Running By Midnight
Watch Out (In The Night)
Watch "Stand Up For Rock'n Roll Power" official video here: