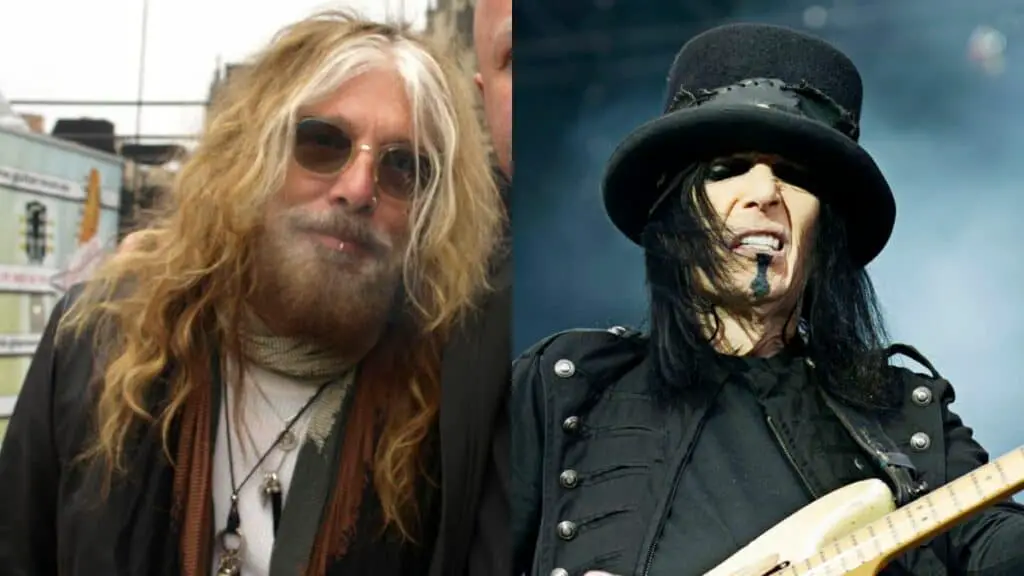 Former MÖTLEY CRÜE frontman John Corabi, who joined the band in 1992 as a replacement for original singer Vince Neil, recently spoke about his current relationship with his former bandmates in an interview with Backstage Pass Rock News.
"I am close to [guitarist] Mick [Mars]. And I do occasionally talk with [drummer] Tommy [Lee] via the Internet," Corabi said. "He'll comment on a picture; he'll comment on something. I'm even fine with Vince. If Vince walked in here right now, I'd give him and hug and we'd sit down and have a drink together. That would be fine.
"Nikki [Sixx] really — and I know I'm opening a can, 'cause Blabbermouth's gonna get hold of this; they always do — but Nikki, for some weird reason, he did some interviews, like, five, six, seven years ago, and he just sat there and just out of the blue just started saying that the record [I made with MÖTLEY CRÜE] sucked and I couldn't write and it was a horrible experience working with me.'
"It doesn't really matter to me. I don't really care. I've seen Nikki a few times. We saw each other at Loud Park in Japan when I was with THE [DEAD] DAISIES. And he just chooses to not say hi. If he wants to be the way he wants to be, I don't care. Okay. Fine. If you wanna talk to me, I don't care. We're fine. Whatever. It is what it is.
"People ask me these questions, and I've tried saying, 'Next question,' but then I come off looking like… It's one of those situations where I can't win. If you [were to] say, 'Hey, can I ask you something about MÖTLEY CRÜE?' and I say, 'No. Next question,' I look like the a**hole to your viewers for not answering the question. And if I do answer the question, I guarantee you this whole thing is gonna be on Blabbermouth in two days, and then the comments below will be, like, 'Man, doesn't that guy have anything else to talk about?' And I'm just answering a question."
Corabi again spoke on Mars's recent announcement that he will no longer tour with the iconic rock group. Taking Mick's place on stage will be former ROB ZOMBIE and MARILYN MANSON guitarist John 5.
"Personally, my verdict is… I have an opinion, I have a thought on what transpired, but I haven't heard anything from Mick. The statement that we've all gotten was from MÖTLEY and their management and whoever's on that side of the camp.
"I know John 5. I think he's a brilliant guitar player. I am not taking [anything] away from John, because I love the guy to death. He is a guitarist's guitarist. But I can't help but think, when we were doing the Generation Swine record, there was a rub between me and Mick, which transpired during…
"They had already told me that they were bringing Vince back, and their manager said to me, 'Can you help them finish the record?' And I said, 'Yes.' And every day they would call me at nine or ten o'clock in the morning, and it was Nikki, this guy Scott Humphrey and Tommy — [they] were producing the record — and they would call me every day, and they would go, 'Hey, can you come by the studio and play some guitar?' And I said, 'Well, as long as Mick is cool with it, sure.' Well, every day I'd get to the studio and they just complained, like, 'Oh my God. We had Mick here yesterday till two o'clock in the morning. We couldn't get anything out of him,' and blah blah blah. So, that was '95. And then they did the record.
"Now, I can tell you right now most of the rhythms on that record were mine. And if Mick was sitting here, he'd go, 'Yeah, most of the guitars were his.' So I played on the Generation Swine record. I don't know if Mick played on New Tattoo — I'm not sure — but I know it was DJ Ashba on Red, White & Crüe, on the new songs, and I know on 'Saints Of Los Angeles', it was DJ Ashba. And then I know on the movie 'The Dirt', the new songs that they did [for the accompanying soundtrack], [a cover of Madonna's] 'Like A Virgin' and all that s**t, it's John 5. So they haven't had Mick… they haven't been using him since — f**k — '95.
"Again, I'm just looking at things the way I look at 'em and I can't help but think that they just went for the upgrade — in their minds," Corabi added. "You do have a history there; the fans are used to that history.
"And you know what? Folks, if I am wrong, I'll come back again with you and I will say, 'I apologize. I'm wrong.' But until I hear it from Mick, I don't buy any of it."