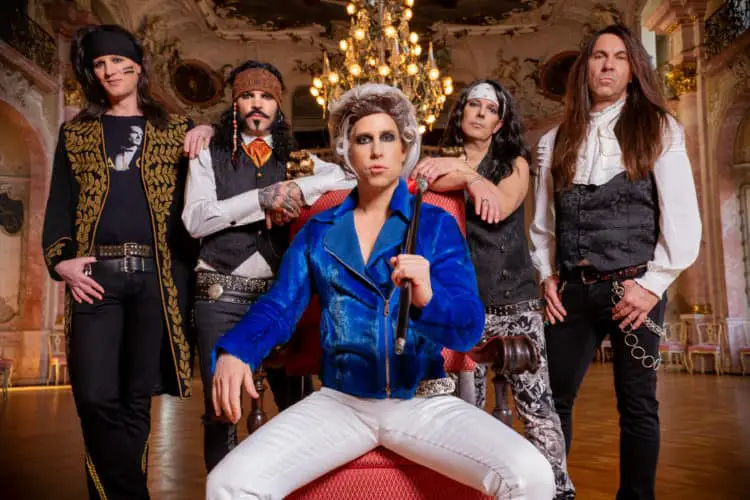 Of course, John Diva & The Rockets Of Love could have taken the easy way out. Their 2019 debut album "Mama Said Rock Is Dead" instantly made 24th place in the German album chart list, putting the band on the map internationally practically overnight – in huge blinking neon signs. Their dazzling video clips accompanying their singles are dripping with clichés and are causing quite the stir on the internet, while their tours following their album release turned out to be nothing less than a Rock´n`Roll imbued victory parade with an ever-growing entourage. What, therefore, could have been more natural than them adhering to the exact same 80ties glam rock inspired recipe for success for their second album "American Amadeus," when it had worked like a charm for their first one? But no, as lead singer John Diva points out. "That was never even an option for us. On the contrary: the challenge lies in growing, testing boundaries and inventing yourself over and over again on an artistic level. Stagnation means regression, so with "American Amadeus" we are definitely going one step further."
Stylistically speaking especially, their 12 new songs are sounding out extremes. Or, as guitarist Snake Rocket describes the direction of their new album: "Our hard songs are even harder and faster, our flashy pieces even flashier". He's making it quite clear that this approach is due in parts to an increased self-confidence. "Our major tour for 'Mama Said Rock Is Dead' has had a positive impact on us", he says. "Thanks to the thoroughly positive feedback for our first album and its great reception at concerts, we're going out on a limb even more with "American Amadeus.'" The album will be released on 15th January 2021 by Steamhammer/SPV and only a few weeks later the band will be going on a big concert tour.
With "American Amadeus" John Diva & The Rockets Of Love are definitely growing and gaining even more personality. At the core of the characteristic John Diva sound lies authentic and energetic Classic Hardrock, a style that first flourished during the 80ties and spread from Los Angeles all around the globe in an unparalleled way. Because one thing's for sure: Where John Diva treads, there's glitter and shine. So much so, that even the greats of that era can only shrug their shoulders resignedly. The new songs, however, go even further, cross referencing not only formations like Van Halen, Mötley Crüe or Def Leppard, but also rock legends of the 70ties like The Who, Kiss in their early years or Black Sabbath.
This already shows in their epic title song "American Amadeus," which is brimming with pomp, pathos, glamour and decadence. This flair is also expressed in the accompanying video clip, which can only be described as opulent. "To us, 'American Amadeus' is the perfect title track because it demonstrates the whole range of our stylistic repertoire" John Diva explains. "The song is glamorous, playfully electrifying and combines European high culture with American trash culture."
Much the same can be said for the first single 'Bling Bling Marilyn,' that boasts a chorus which literally blows your mind. The song was written by lead singer John Diva, together with Hannes Braun (Kissin` Dynamite), who contributed valuable ideas to no less than 3 more songs. "We're really happy with the collaboration", the band enthuses, "especially as the fans will definitely be noticing his style in 'Bling Bling Marilyn'." The same goes for Michael Voss (Mad Max, Michael Schenker), who had his share in composing 'Champagne On Mars' and 'This Is Rock´n`Roll' and who is playing a banjo slide solo in 'Voodoo Sex & Vampires.'
At the heart of this exceptional band is none other than pink comet John Diva himself, womanizer and a true gentleman. It's his powerful voice that layers their humorous lyrics with intelligent and onomatopoeic innuendo. Always at his side are his wing men Snake Rocket and JJ Love, arguably the finest duo of guitar heroes on God's green earth. Then there's of course bassist Remmie Martin, the enigmatic heartthrob with the compelling gaze, and last but not least Lee Stingray Jr., a drumstick-whirling Jack Sparrow lookalike, the pirate once so congenially portrayed by Johnny Depp. These fabulous five are pouring out catchy tunes in heaps, it seems. This is one tried and tested recipe for success that John Diva & The Rockets of Love have certainly stuck to with "American Amadeus" – and rightly so!
Read our review here.