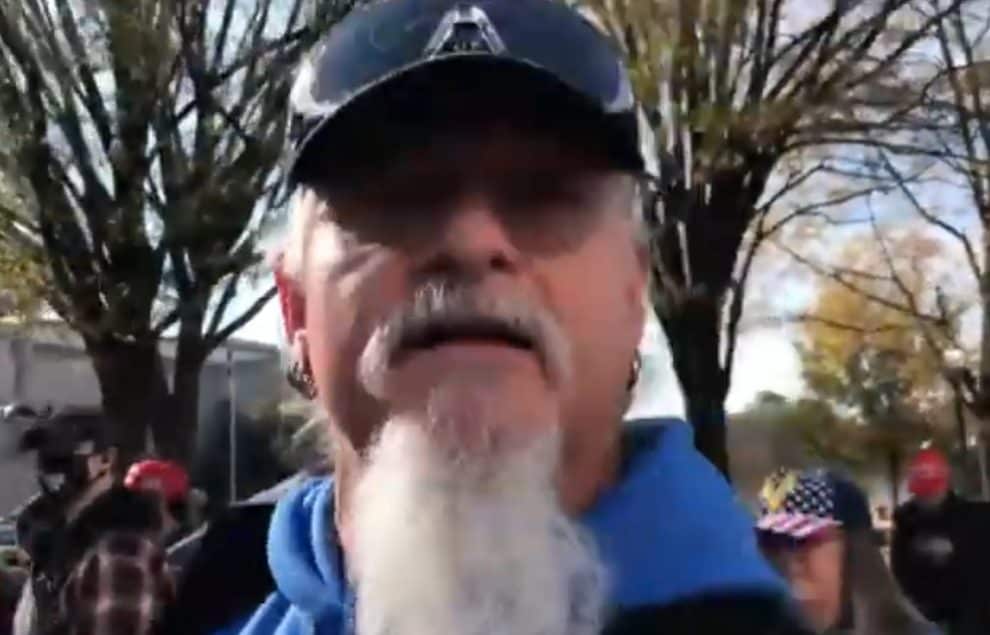 ICED EARTH guitarist and band leader Jon Schaffer has waived a preliminary hearing after he was charged with multiple federal crimes at this month's insurrection at the U.S. Capitol, and he will soon be extradited to Washington, D.C, Indiana Public Media reports.
Earlier this wek, government lawyers asked the judge to not offer ICED EARTH a bond when he goes in front of U.S. magistrate.
Schaffer must prove to the federal magistrate that he is not a threat to himself or the public before being released on bail.
Others who have been charged for insurrection at the Capitol have been given bail but ordered to surrender their firearms, avoid contact with other alleged Capitol rioters and stay away from all state capitol buildings. Some other alleged rioters have been prohibited from using social media and participating in any political rallies.
Schaffer, who resides in Columbus, Indiana, turned himself in to authorities around 3 pm Sunday (January 17), Chris Bavender, public affairs specialist for the FBI Indianapolis Field Office, said.
As reported yesterday, Century Media Records have dropped ICED EARTH and DEMONS & WIZARDS from their artists page.
The FBI Indianapolis Field Office issued the following statement regarding Schaffer's arrest: "Jon Schaffer, Columbus, IN, has been arrested in connection to Jan 6 incident at the U.S. Capitol. Schaffer faces 6 charges including engaging in an act of physical violence in a Capitol building. Schaffer was allegedly among rioters who sprayed Capitol police with 'bear spray.'"
These are the six charges Schaffer is facing, according to the FBI Indianapolis Field Office:
1. Knowingly Entering or Remaining in any Restricted Building or Grounds Without Lawful Authority
2. Disrupting the Orderly Conduct of Government Business
3. Knowingly Engages in an Act of Physical Violence Against any Person or Property in any Restricted Building or Grounds
4. Violent Entry and Disorderly Conduct in a Capitol Building
5. Engage in an Act of Physical Violence in a Capitol Building
6. Parade, Demonstrate, or Picket in a Capitol Building
Schaffer was among the rioters who sprayed United States Capitol police officers with "bear spray," a form of capsaicin pepper spray sold by many outdoors retailers, as part of their efforts to push the officers back inside the Capitol and breach the Capitol building themselves, according to FBI.