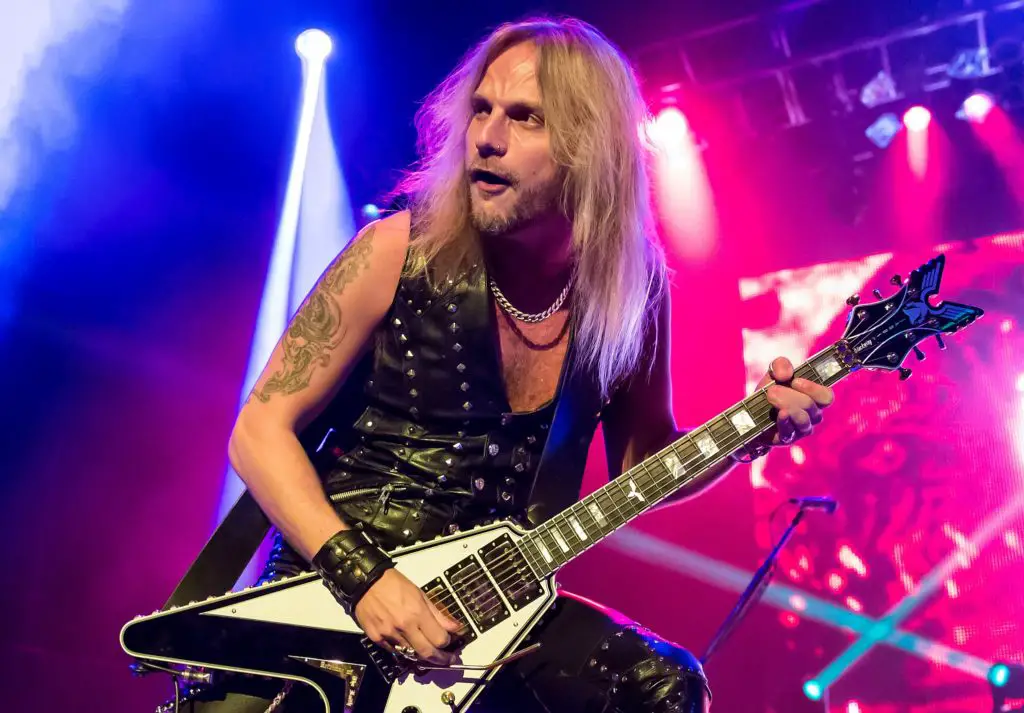 Jayne Andrews, who has been managing JUDAS PRIEST for 36 years, was a guest on a recent episode of "Gabbing With Girlfriends", the new podcast hosted by Gloria Butler, wife and manager of BLACK SABBATH bassist Geezer Butler. During the chat, which can be seen below, Andrews spoke about the fact that current PRIEST guitarist Richie Faulkner wasn't one of the bandmembers who were inducted into the Rock And Roll Hall Of Fame at this year's event, which was held on November 5 in Los Angeles.
The PRIEST members that got inducted include current members Rob Halford (vocals),Ian Hill (bass),Glenn Tipton (guitar) and Scott Travis (drums),along with former members K.K. Downing (guitar),Les Binks (drums) and late drummer Dave Holland.
"I did try and get [Richie] to be inducted, but it's all down to how long you've been in the band, and it revolves around a classic album, an iconic album, and he wasn't on that album," Jayne clarifies. "I kind of questioned a couple of people, I said, 'Well, he wasn't in that band that long, and Richie's been in longer than he was in when he got inducted.'
"What I was told was it's to do with some of the classic, iconic albums, the artists who were on there… There's Rob, Glenn, Ian, Scott, and then K.K. and Les Binks. 'Cause I was saying, 'Well, Les Binks was only in the band for two years. Richie's been in it 12 years.' But [Les] was on 'Screaming For Vengeance'; he was on one of the classic albums," she added, apparently meaning to say Stained Class instead. "So that's why he's being inducted. So that does actually make sense, when you kind of think of that, really. As they said, 'You look at some bands. They've got so many different lineups, different members.' They said, 'We can't induct everybody.' Once they explained that, then it did make sense."
PRIEST received the Musical Excellence Award at the event, which honored Eminem, Dolly Parton, DURAN DURAN, Lionel Richie, Pat Benatar, EURYTHMICS and Carly Simon in the Performers category.