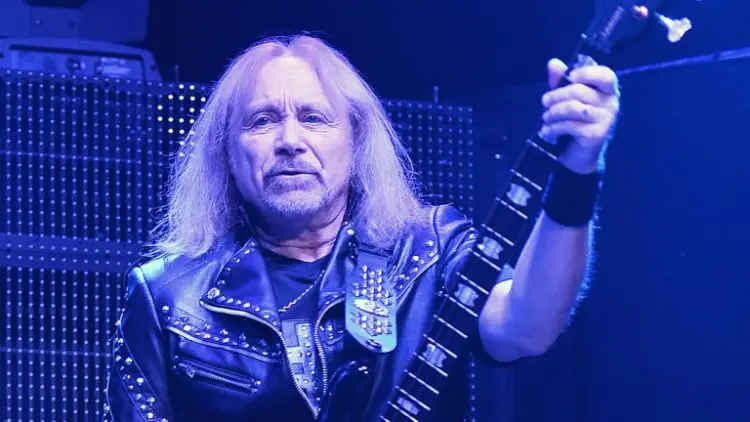 Judas Priest's bassist Ian Hill talked to Rob Rush about the band among other things. Take a look:
You guys have 18 albums. How hard is to pick a setlist out of what's got to be close to 300 songs or something like that?
"It can be a nightmare because, obviously, there's fans' favorites that you can't drop, and we also have the new album, we want to play as many new songs as we can. It can be difficult at times.

"Then you get to the point where you need to shake up the setlist a little bit and try to put some different material in there."
I saw an interview with Rob Halford recently; he said, 'There will be a new Priest album on the way.' So when you say some new songs, will there be any maybe 'new' new Judas Priest songs on this tour?
"Not brand new, no, nothing that's not on 'Firepower.' We'd like to keep it as a surprise until the new record goes out and then we'll come again with the new songs."
When you go out on the road after all these years – you are the founding member, after all the years of tours, what are your favorite songs to play when you get up on stage?
"That's a hard one. 'Livin' After Midnight' and 'Breaking the Law,' 'Metal Gods,' things like that, just from the fans reaction to them it was a pleasure playing those songs.

"And of course, anything from the latest record, obviously, fresh stuff, you just spent a long time pouring your heart into it, what you'd love to do is go out and play the whole album if you could. It's very difficult when you have so many songs to pick just a handful of favorites."
[The latest Priest album] 'Firepower' did well, so what is your take on guys like Gene Simmons saying 'rock is dead'?
The thing is – what are you going to replace it with? I mean, it's been there since the '50s, it all comes from then basically. If you're gonna kill it off, there's going to have to be an opportunity from manufactured pop stuff.

"There's always been something else, like blues, jazz, heavy rock, heavy metal, there's always been something there.

"I definitely haven't heard anything that could possiblyreplace heavy metal at the moment, but it will never die, there will be always people who like different things, heavy metal is certainly different from the music you get in general."
There's a band out there called Greta Van Fleet. A lot of people are giving them slack because of their resemblance to Zeppelin, and then there's a band called The Struts out there that sort of has a Queen-like sound. What's your take on those bands, have you heard them?
"I'm familiar with them, yeah. I'm not completely aware that much of them. Things like that are inevitable. Everybody, especially when you start out – you have influences.

"When we started out, a big influence was Jimi Hendrix, for instance. Mine was Jack Bruce from Cream. It was recognizable back then, as you go forward you get your own feel, your own sound, your own direction, and your image, the whole nine yards."
Richie Faulkner, he's been with you guys for a while since KK's departure [in 2011]. As a younger guitar player and possibly influenced by Judas Priest, what does he bring to the band?
"There's nothing cliche about that, it is true in this instance, he really brought boundless energy and great enthusiasm, something that was there when he joined the band, he just kicked it up a notch when he joined.

"He's always full of ideas and full of energy, he came in on the 'Epitaph' tour, we were trying to slow down – of course, that didn't happen. We were back to doing full-blown tours,records, and a lot of that can be put to Richie and his enthusiasm and youth."