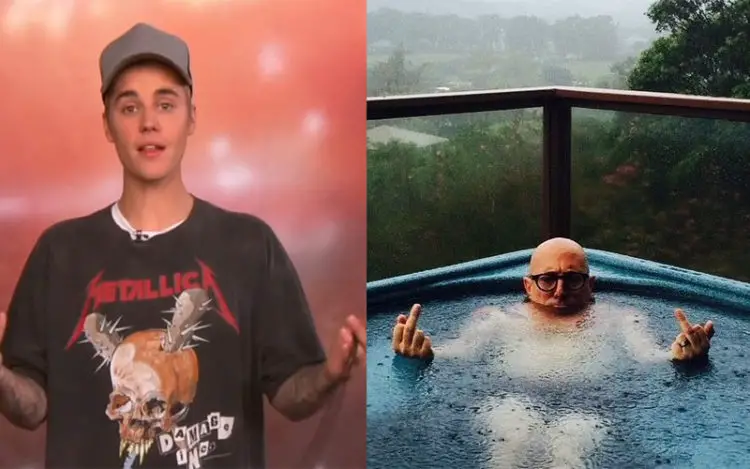 Last week, Bieber took to his Instagram account to post some of the lyrics to TOOL's 10,000 Days track "The Pot". He then asked his followers if they knew which song the lyrics were from. "Don't look it up please I'm curious if any of you know it," he wrote.
A short time after Consequence Of Sound tweeted out a link to a story headlined "It's official: Justin Bieber is a Tool fan", TOOL frontman Maynard James Keenan responded, writing "#bummer."
Well, as it turns out, Justin's wife, Hailey Bieber isn't happy with Keenan's response so she took to Twitter to take a shot at TOOL singer.
She wrote: "He expressed he was a fan of your music. Grew up listening to your music. You must be unhappy with yourself that you want to make people feel small who express their admiration for you. Very childish and hurtful thing to do. I hope u find security within yourself. Sad place to be"
As speculated before, TOOL music has started appearing on streaming services for the first time ever.
Although that only band's first demo EP "72826," is now available, it is believed that the rest of the material will appear around the release of TOOL's new album.
During their concert in Birmingham, Alabama on May 7th, TOOL has revealed that their long-awaited follow-up to 2006's 10,000 Days will be released on August 30.
According to fans who attended the show, a video screen flashed the date "August 30th" during the set's intermission. Frontman Maynard James Keenan then encouraged fans to share the news via social media.
10,000 Days was released in 2006,entered the U.S. Billboard 200 chart at number 1, selling 564,000 copies in its first week. It was Tool's second album to top the Billboard 200 chart upon release. In Australia, 10,000 Days debuted at number 1, selling 39,278 in its first week.