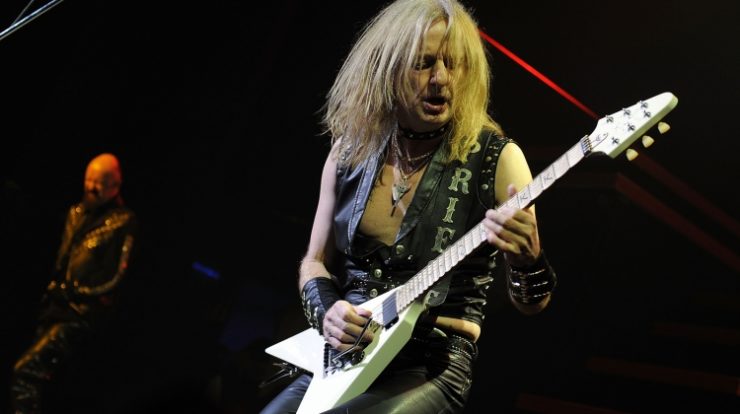 Former JUDAS PRIEST guitarist Ken "K.K." Downing was recently interviewed by Dave Kinchen of Philadelphia's WTXF. A couple of excerpts follows below. (as transcribed by Blabbermouth.net).
On his decision to leave JUDAS PRIEST in 2011:
Downing: "It was the hardest thing I've ever had to do, because I was there in the very, very beginning. And I guess it's one of those things where… It's the ultimate sacrifice and statement, I think. Call it desperation, or whatever it is, but I was hoping that what I did would say everything without words actually being spoken, I guess, in a sense. And I hoped that everyone would realize that I didn't put out a cry for help, I didn't go ballistic — I didn't do any of that. But I couldn't really see a way that it was going to improve, so therefore there had to be changes. Should I have stuck in there and carried on? Well, I could have done that, but I just felt as though I was… The consultation wasn't there with myself and the rest of the bandmembers, the guys in the band, which should have been there. And so I didn't like the fact that it felt like I was working for someone or some organization. I deserve more respect than that, really. But things were just being put on the table — 'This is what you need to do' — and I just didn't want to have a continued acceptance of that."
On how his relationship with his bandmates deteriorated to the point where he felt he had to leave JUDAS PRIEST:
Downing: "I think everyone, all the viewers and listeners out there, will understand… Everyone gets to be in a relationship, whether it's a husband and wife, boyfriend and girlfriend, whether it's at work — you all have relationships, and when that happens, especially to try to be a part of a team, inevitably you get the — and you don't want it to happen, but the inevitable pecking order creeps in, certain egos creep in, and you don't want to, but you come to expect it. And it does happen a little bit. But we did better than most bands; most bands either explode or implode or both after not too long. When we were younger and we were all fighting in the same trench, and there were no spoils to be divided up, we were very united and as one. And then, when things start to happen, success, and with success, there's more money there, and you want more, and that brings more success and more profile. Some people just want more than others. And there is maybe the odd unique guy in the world who just wants a level playing field, everything democratic, everybody's equal, and that's what I always felt that a band should have. And we did well — much better than most bands. But, like I said, inevitably those little bits of — how can I refer to them? — annoyances creep in, and it created a little bit more tension than what is needed."
On why he wasn't invited to rejoin JUDAS PRIEST earlier this year following Glenn Tipton's decision to retire from the road due to his battle with Parkinson's disease:
Downing: "A lot of fans said, 'Okay, the guys didn't ask K.K. to rejoin. But why didn't K.K. ask to rejoin?' Well, that wasn't an option, because Glenn's replacement was announced on the spot, so it was a done deal before I even got to know about it. But I thought that, obviously, myself and Glenn had a great partnership and we had a lot of things in common, and a big part of it was we were good friends. And so, inevitably, because myself and Glenn worked so long and so close together — I think we spent more time than we ever did with our families; wives, girlfriends or whatever. So we did incredibly well, and I'm very grateful for that. But inevitably, those little idiosyncracies creep in. I'm sure Glenn's gonna say, 'What about this?' and, 'What about that?' And I'm sure it's the same situation with him. But I think Glenn liked probably the odd one too many beers before going on stage or during the concert — it was slowing things up a little bit. And that's rock and roll, and that's the way lots of people do it, but with me, I like to be totally on the board. Maybe it's me [being] afraid, thinking if I do that, I'm not gonna be able to give a hundred percent. So, little bits and pieces. But there was a lot of ingredients that went into the pot that just kind of pushed me over the edge."
On his decision to sell his share of the royalty rights to 136 of JUDAS PRIEST's tracks, including classic songs "Breaking The Law", "Living After Midnight" and "Painkiller", to Round Hill Music:
Downing: "That's kind of a multiple answer as well, really. First of all, you get to a certain age, like me… I try to get out of bed every morning, and I like to think that I'm the K.K. that I was in the mid-'70s, but it's probably not the case. Im actually gonna be 67 next month. And obviously when you've got investments, and there's a value there, it's kind of like selling a classic car, really, at a certain time. And the old saying, 'When you [are gone], you can't take it with you. Enjoy it while you can.' So there's elements of that. And obviously, I'm not in JUDAS PRIEST anymore, I don't have that earning capacity anymore. So lots of things come into play where you need some cash to do certain things with, so that's another element. So that's how that works, really. And other main thing is the climate we're in now, to be able to sell something like that, is really at a premium. So I was advised it's a good time to do it."
You can watch entire interview below.