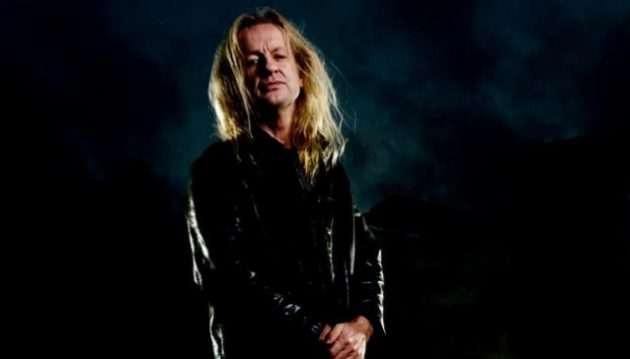 In a new interview with Planet Rock's "My Planet Rocks," former JUDAS PRIEST guitarist K.K. Downing talked about his decision to call his new band KK'S PRIEST, an obvious nod to his former group. His is joined in KK'S PRIEST by former JUDAS PRIEST singer Tim "Ripper" Owens, guitarist A.J. Mills (HOSTILE), bassist Tony Newton (VOODOO SIX) and drummer Sean Elg (DEATHRIDERS, CAGE).
When asked if it's fair to say that KK'S PRIEST is essentially his version of JUDAS PRIEST, Downing responded: "Well, the last thing I wanted to be is an offshoot or an offspring, but the thing is that I'm here [and] I've offered up my services [to come back to JUDAS PRIEST], which have been turned down. All I can say is the fact that I didn't wanna just dispense with a PRIEST. I've been a PRIEST since 1968.
"I've spent my life evolving. JUDAS PRIEST became the archetypal heavy metal band with the leather and the studs, and I was the first one to don the leather and studs, with the image of the band. So I feel justified that I can, with this great band, [approach KK'S PRIEST] as a continuation of this wonderful music and a celebration of rock and metal that I've always been instrumental in and been a part of so proudly. And the fans are there. We've grown older together. Why stop or change? Let's just carry on."
"I could have called the band something totally obscure and not related, but when you hear the music and everything, you're automatically gonna think of K.K. Downing," he added. "And the music will speak for itself and the fans know what they like and I'm here to do what I like and give the fans what I sincerely hope that they like."
KK's PRIEST will release debut studio album, Sermons Of The Sinner, via Explorer1 Music Group/EX1 Records on August 20.
Sermons Of The Sinner is an incredible collection of future metal classics, sure to be one of the stand-out metal releases of 2021. K.K Downing's genre-defining guitar style helped establish JUDAS PRIEST's iconic sound and helped propelled them to one of the top Heavy Metal bands of all-time, earning numerous  accolades including a GRAMMY® in 2010 for "Best Metal Performance," a total of five GRAMMY® nominations and multi-platinum and gold releases.