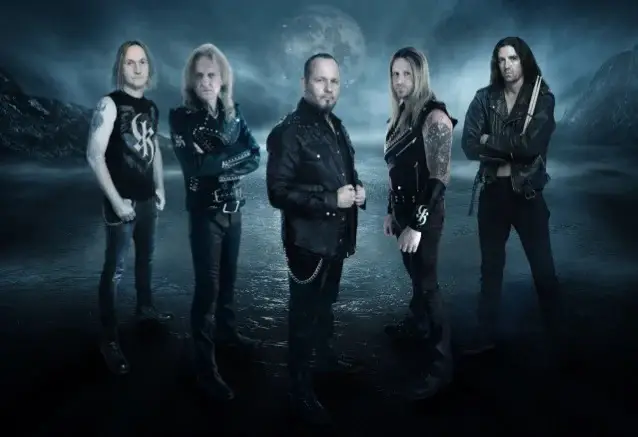 KK's PRIEST, the band comprised of renowned former JUDAS PRIEST guitarist, K.K. Downing and former vocalist Tim "Ripper" Owens, have announced the release of Sermons Of The Sinner via Explorer1 Music Group/EX1 Records on August 20.
K.K. Downing has now issued a statement on the album, writing: "Hi everyone. I just wanted to stop by and say hello! But also to say a few words about the new album Sermons Of The Sinner. We all really hope you enjoy it.
"We feel we've surpassed all expectations to deliver the ultimate metal album — one that is reminiscent of everything that has gone before. But that also takes us into the future om our eternal quest to keep our beloved metal alive for as long as we are on this planet.
"The past year has been frustrating of course but we are very much looking forward for playing live for you just as soon as we possible can. For now he hope you very much like our debut song 'Hellfire Thunderbolt.'
"Until we see you all again, please stay safe and keep fuellng that flames of metal.
"K.K"
Sermons Of The Sinner is an incredible collection of future metal classics, sure to be one of the stand-out metal releases of 2021. K.K Downing's genre-defining guitar style helped establish JUDAS PRIEST's iconic sound and helped propelled them to one of the top Heavy Metal bands of all-time, earning numerous  accolades including a GRAMMY® in 2010 for "Best Metal Performance," a total of five GRAMMY® nominations and multi-platinum and gold releases.
Sermons Of The Sinner track listing:
01. Incarnation
02. Hellfire Thunderbolt
03. Sermons Of The Sinner
04. Sacerdote Y Diablo
05. Raise Your Fists
06. Brothers Of The Road
07. Metal Through And Through
08. Wild And Free
09. Hail For The Priest
10. Return Of The Sentinel
KK'S PRIEST is set to tour worldwide as soon as current restrictions are lifted. Details of touring to be announced.