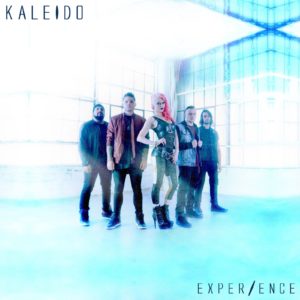 Picture a female-fronted band that the singer actually reminds Rush's Geddy Lee with vigorous overdriven guitars. That's Kaleido and their debut effort "Experience". Kaleido's "Experience" provide some good remembrances of heavy rock bands long time forgetten. I mean the vigourous, hard, and pounding drums, guitar solos that don't abuse of speed, thundering bass, and a very personal voice. Kaleido are a very personal band, no doubt about that. 
"Experience" is a fountain of late 1960s and early 1970s guitar riffing. That's where they get very near to Rush's first effort. And Christina's voice gives the personal touch to their songwriting. Kaleido are a band with a very strong songwriting. I mean, one can notice an extra care to each instrumental line. Everything was keeping their right way when "Trouble In Paradise" comes to scene. The very Blondie scent immediately come to senses. Moreover, I guess that it gets very near to Blondie's followers, No Doubt. Something to hear with an open mind.
I mean no joke with "Experience" title, but hearing to Kaleido has been such an experience. I mean, Kaleido recovers another long gone rock tradition of being a melting pot of influences mixing such different sound textures. Is there anything more modern than that? I guess not. Kaleido are a rock band in its more strict and wider definition. Strict because Kaleido is truely a rock'n'roll band. Wider because Kaleido's mix of influences makes them unique.
To my personal taste I highlight "Blue Collar Delight,", the track of the most Rush taste. Very strong guitars riffs with a raspy female voice that contrasts with the pounding sound. The most personal one in my opinion. If I were to choose another track, I'd choose "No More Little Miss Nice Bitch" that keeps the same Rush taste some Kiss riffing at the end.
Track Listing:
Intro
Blue Collar Delight
No More Little Miss Nice Bitch
I
On One
Die Tryin'
II
Trouble In Paradise
III
Balcony
Love & War
All Together
The End
You can listen to Kaleido's "Experience" on Spotify. "Experience" can also be ordered via iTunes.
You can watch "Die Tryin'" official video here: