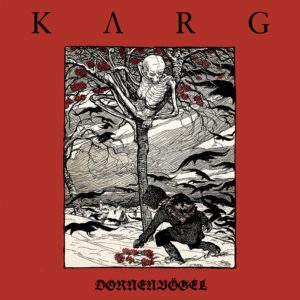 Melancholy, pure melancholy. This is the saddest album that ever has pop up to my players. But it's not the sadness, it's also the sense of rage and rebellion. If I had to explain again what a tormented soul is, I'd tell them to listen to Kärg "Dornenvögel" easily. No other band I've heard before could get even closer what Kärg made me feel. Life isn't fair, we all know that, but "Dornenvögel" is an album that explains life in a nutshell. The passage in the middle of "La Tristesse Durera Toujours" (Sadness Will Last Forever) with a female voice is simply fantastic. The kind that makes you wanna cry. Between you and me: isn't it true? There are days that I'm so sad that all I wanna do is cry. Cry louder than hell to see if anyone hears me. I guess no one. That's how we feel in this sad and lonely small planet forgotten by the gods.
Vocals are responsible for all this. It's angry, grit, but melancholic. You add that on those guitars so common in 1980's goth songs and you'll get what Kärg are. A Metal band where emotion is more important than the music itself. Well, but music is pure emotion, isn't it? Yeah, it is. Kärg may be labeled as gothic or atmospheric black metal. Their music isn't heavy in the pure sense of it. It's heavy because of the complex and dense vibes they create. Do you know when you feel the band is talking to you? That's exactly the feeling "Dornenvögel" passes us. If you're happy, please stay away from Kärg "Dornenvögel." It won't make any good. But if you are as zillions of people in this lonely and sad planet, it will work miracles in you because they understand what you feel.
A funny thing about Kärg is that their songs are in three languages: French, German, and English. Good for a genre that some people think is full of airheads. I dare any popper to do so.
Kärg "Dornenvögel" is an album that seems to be displaying "Welcome to my lonely and sad world!". I respect that. Thanks Kärg for understanding me! Now you know why there are things that don't have a price. Metal is one of them.
Kärg "Dornenvögel" will be released on November 16th via AOP Records.
Track Listing:
Drangsal
La Tristesse Durera Toujours
Petrichor
L'apaelle Du Vide
Meine Freiheit war ihr Tod
F 19.5
Heimat bist du tiefster Winter
Advent
Sorry, no video available.