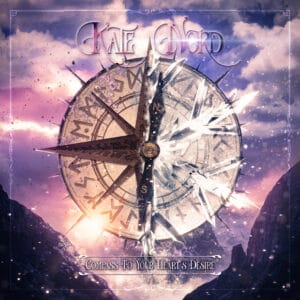 Since the dawn of Metal times, Metal music has been receiving contributions from other music. Classical music has been thoughout time, in a modern time basis, one of the most contributors. My dear child of the night might know all Metal subgenres that have anything to do with all forms of Classical music. I dare to say that Metal music itself owes a lot to Classical music as Judas Priest and other bands incorporated its elements to the detriment of the Blues Led Zeppelin built. Not surprisingly we've been receiving lots of bands with some Classical prone and Kate Nord would be no news. The thing is that Kate Nord is a classically trained singer who exercises her soprano voice here in "Compass to Your Heart's Desire" with flying colors. So, my dear child of the night won't be surprised listening to album welcomer "Recitative to the Moon" this one an opera inspired tune where the girl shows everything she's got. Nor surprised by the overwhelming classical content of the album.
For some "Compass to Your Heart's Desire" could easily be labeled as Progressive Rock or Progressive Metal due to its strong Classical music orientation. However, from the beginning the songs go little by little incorporating more and more Metal music elements. "All alone" is one of them. Though I have to point out that even the more Metal music track as "Wither And Rust," which by the way features Timo Tolkki, has a more evident Classical music orientation. I mean, the song has classical melodic and harmonic structures, so this feeling as an outcome. Unlike their peers, Kate Nord don't use the now usual combination of female soprano vocals with male guttural ones. It's her and only. Other tracks as "Dream Of Daylight" try to combine both equaly however not hiding their preference to the classical singing via Kate Nord.
Okay my dear child of the night, picture a Nightwish mixed with Rhapsody of Fire with female vocals taken the classical singing raised to the nth power. That's it. The way the tracks are arranged in the album shows this as well. The album goes in a crescendo from "Recitative to the Moon" until the grand finale "Aeternam Vale." It's not an opera per se, but it sounds a lot as if.
Kate Nord "Compass to Your Heart's Desire" will be released on December 16th.
Track Listing:
Recitative to the Moon
All Alone
The North Wind and the Troll
Embrace the Cold
Wither and Rust (feat. Timo Tolkki)
Dream of Daylight
Breathe in the Night
Dance of the Fairies
Aeternam Vale
Watch "Compass to Your Heart's Desire" official album teaser.