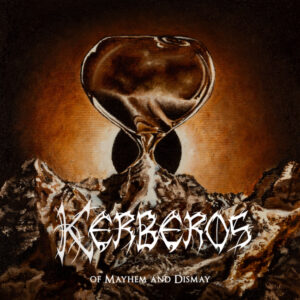 It's  funny how our mind play tricks on us. It's also funny how a band name triggers images and sonancies in our mind as well. The name Kerberos triggers to me a Black Metal infusion or at least some Black/Death Metal combination. Another funny thing to have in mind is that I would expect to find many more bands with this name. There are names that are so popular among Metal bands. That's the truth. But, for my surprise, today's review on Kerberos and "Of Mayhem and Dismay" shows a band with a sonancy pretty far from what it's was imagined. "Of Mayhem and Dismay" is a pungent Symphonic Metal band with a female vocalist that uses her opera trainning up to the limit. It means that Ai-lan Metzger does all the things expected from an operatic singer with a plus. That plus is the Metal singing trainning that she exercises here. Add to that Félicien Burkard's vocals that spice up the recipe giving it some touches of mdernity within the contrast of male/female voices.
"Of Mayhem and Dismay" reminds the classic Therion new Symphonic era albums where vocals had these traits. When it comes to the instrumentals Kerberos use a more modern combination. The classic music elements are dosed to some keyboards emulating violins here and there as in "Orchestra of Death" as it would be expected by the song's tittle. Their strong suit is really the vocalizations. Following track "Holy Downfall" delivers some Prog Rock vocal influences as well with strong downpicking guitars. The contrast the track delivers is really fascinating and the moody church organ gives a total dark and gloomy atmosphere to the track. Though, as the album goes on the Symphonic instrumentals get more and more influenced by trumpets and other instruments. Opera mood takes on from "One-Dimensional Sight" and the songs get longer. Maybe a consequence, Maybe not. Vocal constrast also intensify giving the songs some more musical unbalance. Harsher vocals takes on with more fierceness. The same goes with the guitars that get more insane and distorted. Pure Metal mentality combined with Symphonic instrumentals.
"Of Mayhem and Dismay" is an album that will make the mind of Therion fans. Not only, fans that like the harsh vocals combined with operatic vocals will be also pleased. I guess Prog Metal fans will also have a good time here. Fun fact. Kerberos don't have a bass player.
Kerberos "Of Mayhem and Dismay" will be self-released on September 16th.
Track Listing:
Resurrection of the Sun
Burning Flesh
Orchestra of Death
Holy Downfall
One-Dimensional Sight
Icefall
Murder the Immortal
Midsummernight's Scream
Watch "Burning Flesh" official music video here: