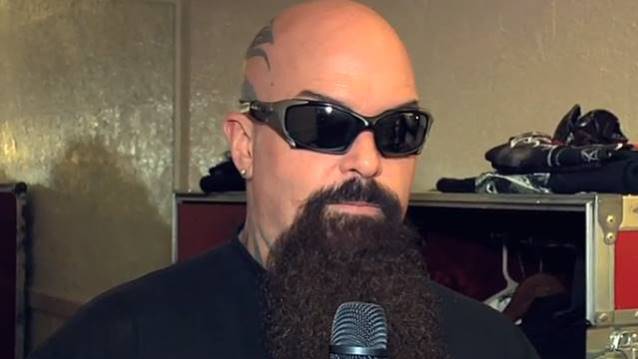 In an interview with Full Metal Jackie's nationally syndicated radio show, SLAYER guitarist Kerry King spoke about the progress of the songwriting sessions for the band's follow-up to 2015's Repentless album.
He said (hear audio below): "We do have six to eight [new] songs [partially recorded], for sure. A couple of 'em are lyrically done, a couple of 'em got leads. They were all recorded at the Repentless sessions, so unless the lyrics change the arrangement, they don't need to be recorded again. So all I really gotta do is write five… I don't know… maybe four or five more songs and get a whole bunch of lyrics together. Half the work's done for the next record, so, in my book, that's exciting. To where 'Repentless' was an incredibly daunting effort, this one should be a lot more laid back."
Asked if SLAYER has any plans or timeline on when they would like to release the next studio album, King said: "It depends on touring — getting time to rehearse, getting time to make up new stuff. We haven't even done Australia on this run yet at all. We're hitting Japan finally later this year. But if things go well, I'd like to record next year. But timelines change all the time."
King also talked about what his life would be like without SLAYER. He said: "I'd probably have some s**tty job that I hate, thinking about killing myself every day because I hate my life. Fortunately, I don't have to do that. My life's rad; I've got the best job in the world, and luckily, I never had to think about what I would do without this. Hopefully I never have to, because I like doing this, I like what we're playing, we've got a great relationship with the fanbase, and it's fun. I love doing this."
Asked if he still enjoys touring nearly four decades into SLAYER's career, King said: "Once we get in the States and we've got a bus and we pretty much drive everywhere, I like it a hell of a lot better than having to fly. It sounds, like, 'Oh, flying's not good enough for you. First class — oh, you want better than that.' It's, like, no, I don't wanna sit around in f*cking airports. You've gotta check in your bags, you've gotta wait for the plane, you've gotta fly, hopefully you're on time. And then you've gotta wait for your bags again. I'd just rather drive overnight and sleep to the next city. So it's a lot easier for us in the States. I mean, in South America, we fly everywhere and that's just how it is. You don't take buses anywhere in South America, 'cause you play so far away. And European summer festival-slash-headline runs, sometimes they book you in such a manner that they don't even think about how you're gonna get to the next show. We've had to charter planes just to make the next show. And, again, I don't mean to belittle charter planes — charter planes are badass and it was an awesome experience — but when am I supposed to sleep? [Laughs]"
Repentless is the first album without Hanneman and first with producer Terry Date, to widespread rave reviews and the highest chart debut of the band's career. The band also teamed up with director BJ McDonnell for three high-concept and brutal music videos for the album's Repentless, then for 'You Against You,' and the most recent, 'Pride in Prejudice'.