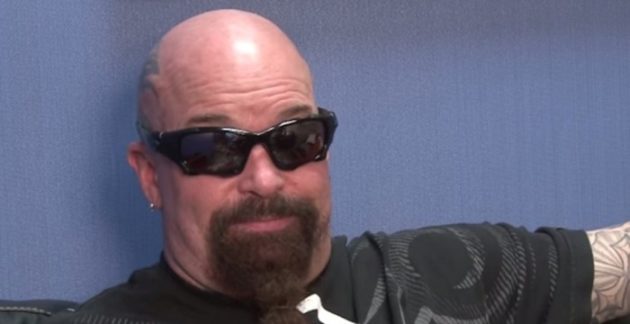 Kerry King shared an update on the status of new SLAYER music, telling Phoenix New Times:
"Last time, we had six months off…

"I kept threatening to work on stuff, but I ended up just sitting around and f**ked off for six months. I hadn't had a vacation in a long time – and by vacation I mean, doing nothing at home. [Laughs]

"But this time around, at the end of this year, I plan on addressing that again, like when I'm backstage warming up, and coming up with some new stuff.

"Then I can revisit that when I am working on music and have time.
Confirming once again he already has around seven songs cooking up from the "Repentless" sessions, Kerry added:
"It's crazy [the new album] is already half done!

"I hate to call it leftovers because it's not; they are just songs I didn't finish.

"And I don't see the point of doing double albums anymore. So those extra six or seven songs, we just need to put a few more together."
Repentless is the first album without Hanneman and first with producer Terry Date, to widespread rave reviews and the highest chart debut of the band's career. The band also teamed up with director BJ McDonnell for three high-concept and brutal music videos for the album's 'Repentless', then for 'You Against You,' and the most recent, 'Pride in Prejudice'.