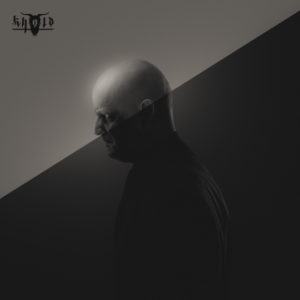 There are albums that have a certain difficulty in labeling. The music inside those albums are sometimes around the boundaries of Metal styles. When in doubt on what to write about the band's style it's usual to go to the press release and from ther get the information needed. However, press releases are even more obscure leaving the reviewer with more doubts. That's exactly the case here with Khold and "Svartsyn," an album that at first sounded to me as if it were some kind of Industrial Metal due to the straight ahead guitars and the complete lack of guitar solos. "Svartsyn" is made of an absolute lack of notes. The straight ahead guitar riffings come with very few notes played repeatedly and in a mesmerized way. But something didn't convince me and I had to look at the press release where I saw Khold are considered a Black Metal band. Ok, then. I guess I've got to change my way of looking at the band.
"Svartsyn" is an album that gets even better at each time I listen to it. There are more details in it than the almost martial guitars showcases. It's an album to be devoured with lots of patience. The great thing about "Svartsyn" is that not all tracks follow the minimal effort of notes. "Evig," for instance, have some layers of guitars from the clean ones to the most intricate but not so noticiable. As it is said, the devil is in the details. The track has some guitar drive that deoesn't belong to Metal music but to 1980s Gothic and others. Khold's  minimalistic philosophy comes also with the album cover. Just a man looking to somewhere. Only that. By the way, I like the wordplay with the band's name. Pretty creative. It fits perfectly to the band. Another interesting feature about the music is the vocals. It's not gutural to be considered modern Black Metal. It's the kind of vocals the Old School of Black Metal used to have few years ago. It gets more versatile and plastic and possible to fit into the hodgepodge of influences the band shows. "Helligdom Av Døde" tells it better than my poor words.
It's always a challange to get an album as this "Svartsyn" and to some extent to a band as Khold. I like to be musically defied. To be musically surprised is one of my goals here. I've never denied that. Of course, there are patterns and standards and even some clichés in the album but they are few and fit perfectly to the band's musical intent. That's why it was so difficult to write about it.
Khold "Svartsyn" will be released on June 24th via Soulseller Records.
Track Listing:
Apostel
Ødslet Blod
Evig
Skarpretter
Helligdom Av Døde
Manngard
Dystopi
I Demonens Bok
Villvandre
Bryt i Udåd Ut
Watch "Apostel" official video here: