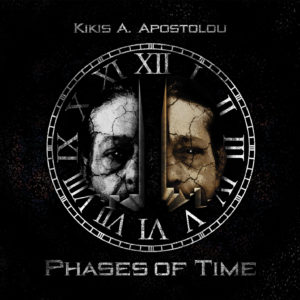 Here's a very interesting solo album. Some may say 'Ah, one more shredding and show off guitar player boring us to death with songs written only to show us how amazing he thinks he is'. Not really my friend. Of course, there is the shredding, but the album is an album. Kikis A. Apostolou in "Phases of Time," unlike his extreme-velocity peers, does not only play fast, but also with feeling and emotion. Yeah, he also plays slow and gives chance to other instruments shine in the album, for instance in "Armies of the Cheruvim," which isn't only instrumental. Yeah, there are both kinds of tracks what in my opinion is very nice.
Another thing that calls the eyes in "Phases of Time" is its variety of mood, tempo, paces, and technique. There are neoclassical songs, power metal grip, hard rock feeling, and other moods. In-between instrumental tracks, where Kikis A. Apostolou shows all his skills and abilities, most of them with neoclassical grip; there are band tracks, where the dude can show his abilities with a band. Check it out in the sequence "Heaven Wish," "Down on My Knees," this one with a hard rock grip and a huge Glenn Hughes taste, and "Through Laughter and Cries," almost a power ballad. Some may find odd to say band track, but some guitarists write songs thinking on this duality: instrumental only and band track.
"Phases of Time" is an album to please who likes instrumental and who likes bands. Kikis A. Apostolou was careful and thoughtful enough to give both his best. He made an album for joy. Listen to "Black Orpheus" and feel the joy we all feel when he plays. That's what music is all about: fun and joy. Of course, there is so much more, but if it offers both, we are delighted.
Kikis A. Apostolou "Phases of Time" was self-released on July 27th.
Track Listing:
Under Confusion
Shadow's of an Angel's Wings
Armies of the Cheruvim
Full Moon in Spain
Live in a Carton Tent
Heaven Wish
Down on my Knees
Through Laughter and Cries
Black Orpheus
Poin of No Return
Ending Theme
Watch "Armies of the Cheruvim" official video here: