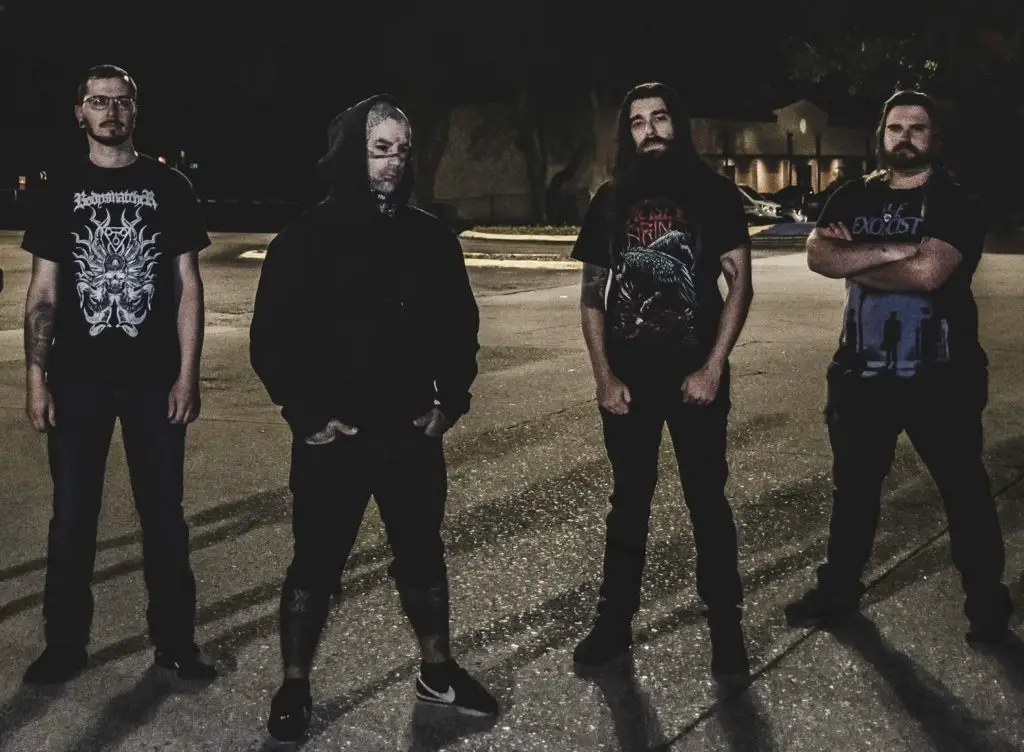 Florida's deathcore act KILL THE IMPOSTER have a new single out "Dongan Hills" in support of their upcoming album The Violence Sessions. Those who have seen KILL THE IMPOSTER live know that the band brings non-stop energy and that vocalist Johnny Nobody can be seen swinging from the rafters or jumping from bar to bar, but this vigor isn't restrained to the live show, it can be felt on their recordings and in their music videos and this new single is no exception. 
"Dongan Hills" is the second track off the pumping new album, it is named after a place in Staten Island, NY that Nobody would take a train to and try to escape life, but he'd always end up getting in more trouble. Make sure to check out the new music video for the single "Dongan Hills" below.
The Violence Sessions are the third release from KILL THE IMPOSTER, following 2019's The Decimation and 2020's A Strain Of Agony EP. Reflecting back to earlier work, Nobody quotes about the band's evolution:
"I think the four of us come from not insanely different places, but different enough that we had to create our own sound. I mean, we didn't invent the wheel for sure, but I think me trying to put my NYHC roots in everything helped guide the boat a bit. So at the beginning very simple beat-down riffs moved to a now more guided route. I mean we had to figure out who we were and weren't."
KILL THE IMPOSTER don't half-ass anything, each song they write starts with a riff and gets hammered to precision until they can wait to play it in a set. According to them, "when we get those goosebumps listening back to demos – that's when we know it's ready for the masses to enjoy."
Angry and heavy, KILL THE IMPOSTER is recommended listening for fans of Bodysnatcher, Emmure, and Thy Art is Murder.
Upcoming Show Dates:
May 28 – Cocoa, FL – The Crying Monk (Album release show)
Aug 20 – Winter Park, FL – The Haven Lounge – Central Florida Metal Fest w/ The Convalescence, The Crowned
Sept 5 – 9 – Danville, VA – Blue Ridge Rock Festival
Sept 26 – Orlando, FL – Rebel Rock Fest w/ Rise Against, The Used, Sevendust, All That Remains, Emmure, Miss May I, Suicide Silence, Islander
Sept 28 – Lake Odessa, MI – At The Race Track Fest w/ The Convalescence
The Violence Sessions Track Listing:
1. Broken Crown
2. Dongan Hills
3. Evil Ways
4. False Prophet
5. Mace
6. Suffer Alone
7. Unfit Coward ft. Taylor Barber (Left To Suffer)