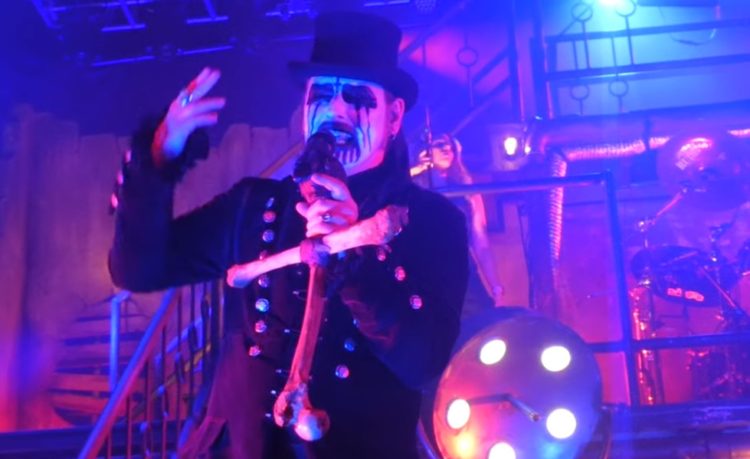 KING DIAMOND performed new song "Masquerade Of Madness" live for the first time at the opening show of the band's North American tour on Saturday, November 2 at the Bomb Factory in Dallas, Texas.
You can watch fan-filmed video footage below.
King said to the crowd prior to the song: "You might have heard we started writing a new album. There is one song that has finally been completed a hundred percent."
He added: "It's gonna be available this Friday, I think, coming up — the first KING DIAMOND studio song for — I can't count how many — many, many years. This is 'Masquerade Of Madness'."
KING DIAMOND has revealed the title and theme for the first studio album in 12 years: The Institute.
KING DIAMOND's namesake frontman comments: "For reasons unknown to you, it is clear that you have no way of making it to The Institute on your own at this point. Therefore, we will bring The Institute to you. You don't want to miss this special opportunity for treatment only we can give you. It could be for your own good, you know…"
Rest of the North American tour dates are as follows:
Nov. 04 – Atlanta, GA @ Tabernacle 
Nov. 05 – Orlando, FL @ Dr. Philips Center 
Nov. 07 – Brooklyn, NY @ Kings Theatre 
Nov. 08 – Worcester, MA @ The Palladium 
Nov. 10 – Philadelphia, PA @ The Tower Theater 
Nov. 11 – Baltimore, MD @ The Lyric 
Nov. 12 – Montreal, QC @ M-Telus 
Nov. 14 – Detroit, MI @ The Fillmore 
Nov. 15 – Cleveland, OH @ The Agora Theatre 
Nov. 16 – Louisville, KY @ The Palace Theatre 
Nov. 18 – Chicago, IL @ The Riviera 
Nov. 19 – Minneapolis, MN @ Palace Theater 
Nov. 22 – Denver, CO @ The Fillmore 
Nov. 23 – Salt Lake City, UT @ The Complex 
Nov. 25 – Seattle, WA @ The Paramount 
Nov. 26 – Portland, OR @ The Schnitzer 
Nov. 27 – Vancouver, BC @ The Queen Elizabeth 
Nov. 29 – San Francisco, CA @ The Warfield 
Dec. 01 – Los Angeles, CA @ The Wiltern 
Dec. 02 – San Diego, CA @ Magnolia 
Dec. 03 – Anaheim, CA @ The Grove of Anaheim 
Dec. 04 – Phoenix, AZ @ Comerica
Tickets for the ongoing tour are available here.