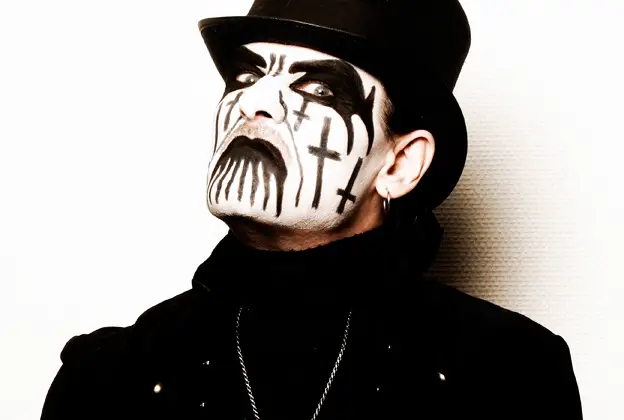 KING DIAMOND is preparing to enter the studio to begin writing and recording the long-awaited follow-up to 2007's "Give Me Your Soul… Please" album. The band is also putting the finishing touches on the Blu-ray and DVD filmed during KING DIAMOND's 2015-2016 "Abigail In Concert" tour.
KING DIAMOND's singer spoke about the band's plans for the coming months during a March 29 appearance on Eddie Trunk's SiriusXM radio show. He said: "As soon as the DVD is finished — it'll be a matter of two or three weeks — [KING DIAMOND guitarist Andy La Rocque] is showing up here [in Frisco, Texas] to initiate my home studio where I'm gonna do all the vocals for a brand new KING DIAMOND studio album."
He added: Although the music for the next KING DIAMOND disc is far from completed, the storyline is "about 80 percent done. There's some very unique things I'm putting into it this time where you will relate to some of the sounds you hear on it, 'cause it's sounds that you will hear on certain days in your private life," he said. "You're outdoors, or whatever, and you might hear certain sounds and you will, guaranteed, think, if you heard the album, 'I wonder if that thing King talked about could have happened when I heard that sound here.'"
According to King, the forthcoming Blu-ray and DVD will contain two full KING DIAMOND concerts — one recorded at an indoor venue in 2015 in Philadelphia and other at the outdoor Graspop Metal Meeting festival in 2016 in Belgium.
"The way we recorded it, the way it's been edited is very unique," King said. "I don't think our fans will have seen anything like it ever before. On the entire tour — both tours — we recorded ourselves [using] nine GoPros [cameras] every night, placed in different places: in a coffin, on lanterns we used [around the stage], grandma's wheelchair had a thing on it, on guitars and railings… It was everywhere; we didn't even know where they were until after [we saw them]. And there was 25 shows that we did it to. And then the two shows we did with nine pro cameras on top of it."