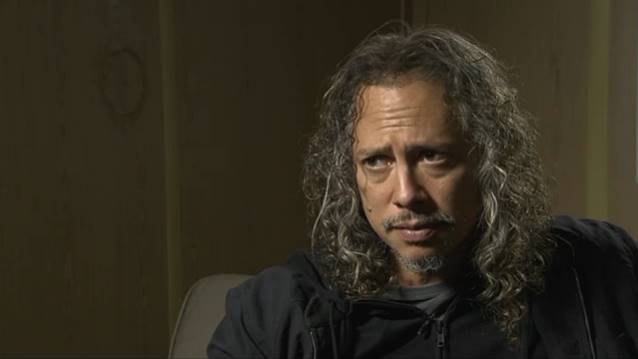 METALLICA guitarist Kirk Hammett revealed in an interview with Cosmo Music that he has a "lot of stuff written" for band's follow up to 2016's Hardwired… to Self-Destruct.
"I have a lot of stuff written that I've put aside for the band — a lot of stuff," Kirk said. "Because last album, I didn't have any stuff, 'cause I lost most of my ideas when I lost my phone — over 500 musical ideas… It took me a long time to recover from that. And I got it into my head I had to produce twice as much — basically, I overcompensated.
He continued: "So, as it stands, as we speak, I have a lot of material — really kick-ass, great material — that I just can't wait to show the other guys and turn into some music, record, get the album out and have more kick-ass metal."
In April, Hammett said that he has "a ton of material" written for next METALLICA album in an interview with Australia's Mixdown magazine.
He said: "When I was 13-14 years old, bands put out albums every year. Seriously, KISS put out an album every eight months. None of this eight years between albums.
"None of us are very comfortable with the fact it's been so long, because that is a long time," he continued. "We're hoping to avoid that this time around.
"We're in our third year since 'Hardwired'. Maybe we can get a bit more focus and go into the studio a bit sooner. I have a ton of material. I've over-compensated, so I'm ready to go anytime."
Also, METALLICA bassist Robert Trujillo said the band's next studio album would arrive "a lot sooner than the previous two did:
"This time around, I think we'll be able to jump on it a lot quicker and jump in the studio and start working. We've all vowed to get this one going sooner than later. Now, how soon? I don't know.
"We've been touring non-stop. It's been over two years now. At some point, sure, we'll need to take a little bit of a break. It's sort of the right thing for us to do because we've been going so hard."
METALLICA's latest album Hardwired… to Self-Destruct debuted at number one on the Billboard 200, selling 291,000 album-equivalent units in its first week, of which 282,000 were pure album sales. The remaining 9,000 units comprised 34,000 song purchases and 9.3 million streams. It was the third-largest debut of the year in the US on pure sales, behind Drake's Views and Beyoncé's Lemonade. 
The album slipped to number 3 on the Billboard 200 in its second week, selling 75,000 units, including 71,000 copies. Hardwired… to Self-Destruct was the best selling heavy metal album of 2016 in the US and seventh overall, with 516,000 copies sold by the end of December.