During his recent conversation with GHOST mastermind Tobias Forge, guitarist Kirk Hammett said that all members of METALLICA are big fans of the Swedish group and that they are honored to take them out on the road as the opening act.
He said: "It's our honor [to bring GHOST on tour with us], it really is. I mean, we are all big GHOST fans, and we want to put on the best possible show for our fans and it means bringing out the best possible bands we can to play with us.
"We feel it's important to put out a very, like, well-rounded show that offers a lot of different stuff, and you guys [GHOSST], your music and your show just offer so much of a different sort of thing that we do, that I think it works out really really well."
Tobias responded: "Thank you. I couldn't really imagine anything more inspiring and I think the setup as well is really good for us.
"Because even though we have opened up for you guys before over the years, I think that even though I can't really come up with, like, a terrible situation, it's not seldom when you are a small band and you come in and you open up for a really big one, it can turn out to be a little daunting, especially if you are basically too new of a band.
"You are being thrown out sort of out of the nest, you can't really sort of fly. If you lose 30-40 thousand people, that's not cool. I definitely think that now coming in at this level for us, where we've done a few rounds, we already have a crowd, feels like there's, like, enough people out there to sort of, like, 'Yeah, I like what you did.'
"So you feel that towards the end of the show, it feels like we've gathered at least a majority of the crowd, which is a very good thing, and I think that definitely, you need to sort of come in at a certain level to be, I guess, welcomed by the crowd to do that. It's them allowing you in a way to do entertain them."
Kirk added: "For me, whenever we play, it's a real event in my own head, and so whether it's, like, a small theater, an arena, or a freaking stadium with 47,000 people, in my mind it's all just the biggest event.
"Walking out on stage for me in my mind is an event. It really is, my small little life, like, waking up and meditating, doing yoga, playing guitar and reading, then, you know, X hours later, walking out on stage to 47,000 people, in my mind, that is a f*cking event.
"At that point, it doesn't matter what anyone else is thinking, whether they're thinking, 'It's a festival, it's a METALLICA gig' – it's an event, it's a f*cking ground-breaking experience.
"In my mind, it's an event, and I approach it like it's the f*cking last show I'm gonna play, and just f*cking give it my all, and to me it evens out all the shows, big or small, that mindset allows me to go out there and play the same show whether it's a small show in front of 10 people or a medium-sized show in front of 10,000 people or a massive show in front of a 110,000 people, it's always an event in my mind.
"That's kind of how I see it. I can only imagine with you guys, all the preparation that goes into like presenting this really cool, really it's like a show that, perceptually, it has so much coming at you – visually, musically has so much coming at you, you know.
"To me, whenever they play, in my mind too, it's like an event. It's like going to see a freaking movie or a stage play. I don't mean to answer for you, but that's how I kind of see you guys."
Then Tobias said: "For me, personally, I can't speak for everyone, it's like being here, doing this tour, opening up for you guys is basically two different things: it's one – the amazingness of doing a big tour like this, being asked to do it, being able to do it, having the ability to actually put on a performance.
"And then as soon as like you're geared up and on your way out to the stage, you can't think about that anymore. You need to sort of, like, go out and entertain people.
"And, the one thing I've noticed, the bigger we get even on our own, there is some sort of breaking point when you're playing clubs of a certain size and you've grown into bigger venues, eventually you end up, hopefully, in arenas.
"When you're playing in front of a lot of people, even though it's your draw, there's gonna be a lot of people inthe room that aren't a hundred percent aware of everything that you do the same way that you would have if you just played in front of 300 most die-hard hardcore fans.
"Not saying that you don't have to entertain those 300 people if you only have them in front of you, but when you have a thousand, two thousand or more, you need to make sure that everyone, even up there, you reach out to them.
"And even on a headline date, you can definitely have a bad day when you fail at grabbing everyone and entertaining them. That connection, because there's alwaysgonna be someone next to the fan who was like maybe heard a song on the radio, might like it okay, but is not a die-hard fan, and my job is to make everyone feel like they leave as a fan.
"Opening up for a bigger band where you have a lot of people coming in where there's a lot of people who are not necessarily there for anything but the fact that it's a big spectacle in town, I need to reach out to that person."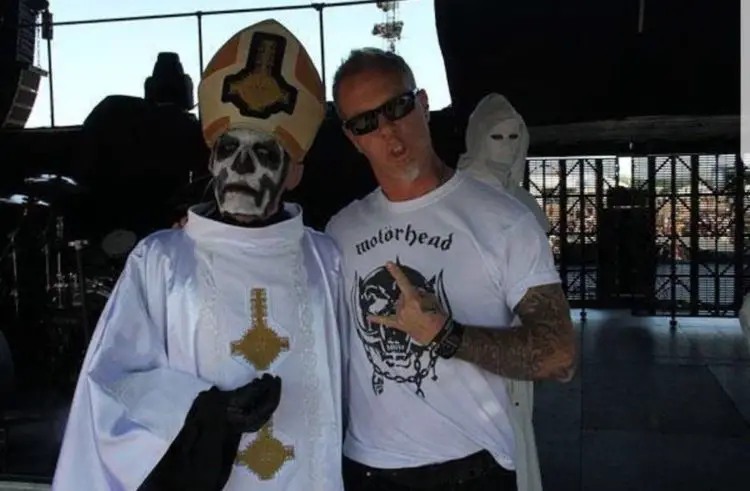 In April, guitarist Kirk Hammett has revealed that he has "a ton of material" written for next METALLICA album in a recent interview with Australia's Mixdown magazine.
He said: "When I was 13-14 years old, bands put out albums every year. Seriously, KISS put out an album every eight months. None of this eight years between albums.
"None of us are very comfortable with the fact it's been so long, because that is a long time," he continued. "We're hoping to avoid that this time around.
"We're in our third year since 'Hardwired'. Maybe we can get a bit more focus and go into the studio a bit sooner. I have a ton of material. I've over-compensated, so I'm ready to go anytime."
Also, METALLICA bassist Robert Trujillo said the band's next studio album would arrive "a lot sooner than the previous two did:
"This time around, I think we'll be able to jump on it a lot quicker and jump in the studio and start working. We've all vowed to get this one going sooner than later. Now, how soon? I don't know.
"We've been touring non-stop. It's been over two years now. At some point, sure, we'll need to take a little bit of a break. It's sort of the right thing for us to do because we've been going so hard."
METALLICA's latest album Hardwired… to Self-Destruct debuted at number one on the Billboard 200, selling 291,000 album-equivalent units in its first week, of which 282,000 were pure album sales. The remaining 9,000 units comprised 34,000 song purchases and 9.3 million streams. It was the third-largest debut of the year in the US on pure sales, behind Drake's Views  and Beyoncé's Lemonade.
In an interview with Ireland's Overdrive, GHOST mastermind Tobias Forge has confirmed that he is planning on entering the studio in early 2020 to begin work on the follow-up to 2018's Prequelle album.
He said: "I think about it all the time. But let me be very transparent here. I am indeed going into the studio where I will be beginning the work in January. We're doing another American tour in September/October and then we're gonna come back to Europe and that is gonna take us right up until Christmas, basically. So, after New Year's, we are gonna have maybe one or two small things at the beginning of the year and then it's gonna be all about the new album.
He continued: "People need to understand that I spend about five to six months in the studio. That's not with red lights going or anything. [Laughs]. But it's just being in that creative environment, you know? I also try to work 'normal' hours, because I have a family also, so, I try to work traditional hours. I like to come in on Monday morning at about 9 a.m., 10 a.m. and then I do normal stuff like have lunch and think about what's going on, and then I wrap up for the day and head home and see my family.
"In order to make that record, it's gonna take me about six months, and then that's gonna take me to the summer, which we've already decided we're gonna take a break a let the dust settle, and then hopefully by the end of the summer, the record will be finished.
"Unfortunately, or fortunately, depends on how you see it, the U.S. elections are happening, so bearing that in mind, it's not the best time to release new material when people's minds are focused on other things. I just want to make sure that when we release this new album, we have people's attention."
Forge added Forge that the "plan" is to complete the new album by the end of the summer of 2020, "but in the event that it's not finished, it's gonna be okay. I don't want to stress the situation," he said. "Every record I've done has been under some type of time restraint, even Opus Eponymous (2010); that album was on a very tight schedule. It was definitely last minute. [Laughs]. I just want to make sure that I have enough time to release the album that I'm thoroughly happy with.
When asked when he sees the new GHOST album finally being released, Forge said: "I would say by early 2021 you can expect the next chapter of the GHOST story."
In a recent interview with Revolver Magazine, Forge talked about the musical direction he wants to pursue with the band's next album.
The musician pointed out he is aiming to "make a different record" from the latest GHOST effort, 2018 Prequelle, which he described as "a little ballad heavy." 
Tobias added: "I want it to feel different. If I dare to say 'heavier,' people think that it's going to be Mercyful Fateall the way … but I definitely have a darker, heavier record in mind."
GHOST's latest album, Prequelle, was released on 1 June 2018. The album marked the band's strongest selling debut to date, landing at number 3 on the Billboard 200, selling 66,000 copies in its first week, with 61,000 of those being "traditional" album sales.