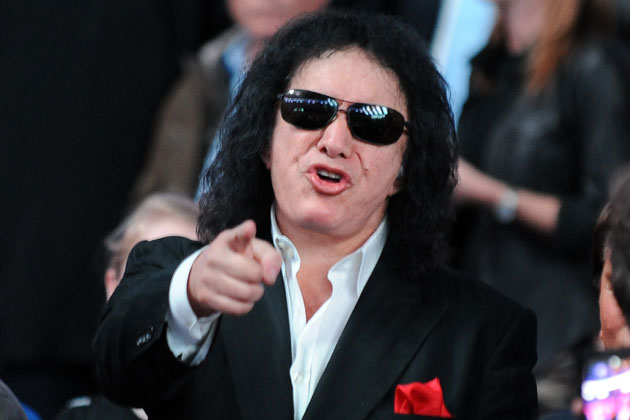 KISS bassist Gene Simmons and the band's former guitarist Ace Frehley recently held a Q&A session during which they talked about Vinnie Vincent, who played guitar in KISS between 1982 and 1984.
Ace said (as transcribed by Ultimate-Guitar.com).
"Yeah, me and Gene have always been very close. Every time I play with Gene, it just feels like old times."
Can you see it progressing to something more?
"You can ask [Gene]. Gene's got KISS, I've got my own band, I'm making records, I'm doing good. But, you know, who knows what the future will bring."
Will there be a farewell KISS tour with all the classic members?
Gene: "I've heard all kinds of rumors."
Will it involve the original members?
Gene: "I've heard that rumor too. [audience laughs]"
What about Vinnie Vincent?
Gene: "Oh… yeah… [audience laughs]"
What was it like meeting up with Vinnie in Atlanta?
Gene: "Respectfully, he's about to get into some more legal problems because he tried to trademark the makeup and to trademark 'Vinnie Vincent KISS' logo."

Ace: "I heard you only lasted with him five minutes on stage."

Gene: "It was okay. He was sweet for the time on stage. There's something called classic failure mechanism. I wish I was told by doctors and everything. I'm not saying he is one, but there are people who simply cannot handle when things are starting to go their way. Success.

"So they torpedo it by making stupid decisions to make sure they don't succeed so they can deal with that. Because some people just can't fathom being up there, so they turn to other stuff and torpedo it.

"And Vinnie is a great guy. He doesn't suffer from that."
And a good guitar player, too.
Gene: "Very talented. And maybe, in my view, his own worst enemy. In my opinion."

Ace: "I didn't know if Vinnie was gonna show up in pants or a dress. [Laughs] [audience laughs]"

Gene: *facepalms*

Ace: "I mean, you hear all these crazy stories. I've seen photos of him in a dress, so, you know… I've never met Vinnie Vincent. Vinnie can be a sweetheart from what I understand."

Gene: *facepalms again* [everyone laughs except Gene]
Gene, what was it like playing without Paul Stanley live?
Gene: "In a band setting… Certainly, there were events where somebody would ask me to jump up. Metallica and I did a tune before you were born. Actually, it was 'Cold Gin.' So everyone in a while I'd get up and play a song together. But never with my own band."
Paul Stanley went to a hospital once and KISS performed without him…
Gene: "Yes. That is true. He had something called A-Fib. So his heart was… We do 60 to 120 beats per minute. His was over 220. So, dehydration, he was dog-tired, 100-degree temperatures… So they took him away.

"We asked folks in a total makeup, 'Do you want to do it another day or should we try to do it as a trio?' Nobody wanted to leave. So I had to tell Paul we sucked without him. It was just the worst ever."