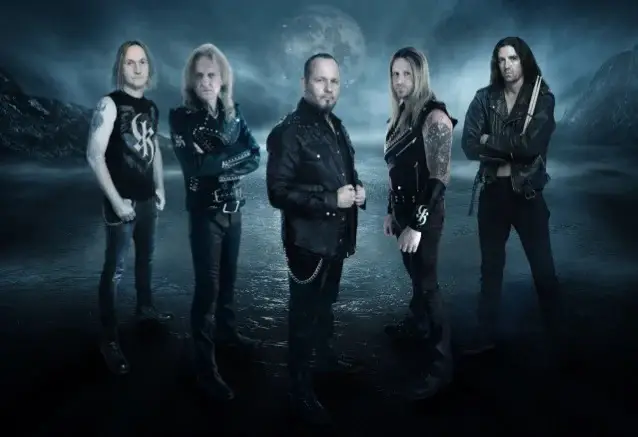 KK's PRIEST, the band comprised of renowned former JUDAS PRIEST guitarist, K.K. Downing and former vocalist Tim "Ripper" Owens, have announced the release of Sermons Of The Sinner via Explorer1 Music Group/EX1 Records on August 20. Now, they have released an official music video for the album's title track, and you can check it out below.
In the video for the title track, K.K is seen regaining his position of strength by re-taking the book of sermons that allows him to fend off the demon that threatens to extinguish our musical legacy.  Both storyline and performance can be seen in the clip. 
Of "Sermons of the Sinner", Downing says:
"The song and title track 'Sermons of the Sinner' epitomizes the whole album in one just song. It is all-encompassing with its tribute to the history of our beloved genre of music, while updating the details for today's audience.  In the song and video we not only extend our humble gratitude to loyal fans of classic rock and metal but also present a subtle warning about the future of the genre. We are very hopeful that the song and album 'Sermons of the Sinner' will inspire young and older musicians alike to pick up their instruments and keep alive the rock music that so many of us have become a part of, and that has become such a part of us. " 
"Sermons of the Sinner" follows up the successful debut track "Hellfire Thunderbolt" – a track that has fans and critics alike excitedly recalling Downing's classic riffs. YouTube reaction-video favorite, The Adventures of TNT, exclaimed "I am thoroughly impressed…this is probably the best Metal song of 2021!"
Today fans are able to pre-order the debut album in various configurations including an exclusive limited edition autographed Metal Vinyl (Silver Disc) with bonus CD Album, via the band's online store here. The album can be pre-saved via all global digital streaming partners as well.
Sermons Of The Sinner is an incredible collection of future metal classics, sure to be one of the stand-out metal releases of 2021. K.K Downing's genre-defining guitar style helped establish JUDAS PRIEST's iconic sound and helped propelled them to one of the top Heavy Metal bands of all-time, earning numerous  accolades including a GRAMMY® in 2010 for "Best Metal Performance," a total of five GRAMMY® nominations and multi-platinum and gold releases.
Sermons Of The Sinner track listing:
1. Incarnation
2. Hellfire Thunderbolt
3. Sermons Of The Sinner
4. Sacerdote Y Diablo
5. Raise Your Fists
6. Brothers Of The Road
7. Metal Through And Through
8. Wild And Free
9. Hail For The Priest
10. Return Of The Sentinel
KK'S PRIEST is set to tour worldwide as soon as current restrictions are lifted. Details of touring to be announced.