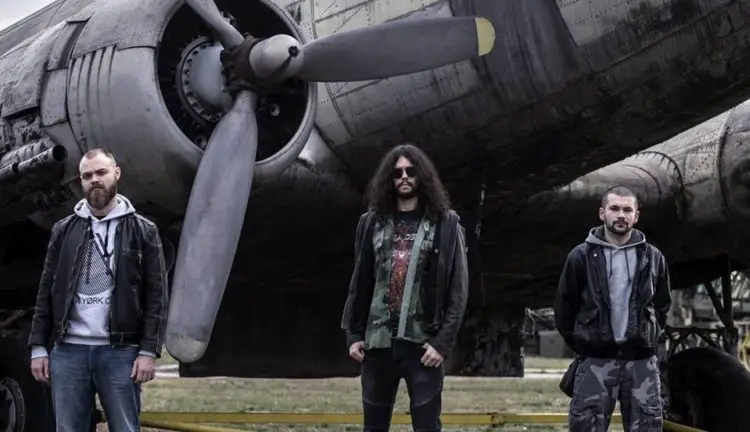 Serbian thrash metallers KOBOLD has released a new music video for the song "Deus Ex" from the new album Masterpace that was recently released.
Music video was recorded by Jovan Mihajlović and Filip Simić, and post-produced by Elio Rigonat and Marko Stefanović.
Band comments on music video: "The song "Deus Ex" is the backbone of the new album and it deals with the theme of naive dismissing of ecological problems by the corrupt world capitalists, that is very real and will impact us all, no matter our social status and class.
"By ignoring the situation, they hope that somehow some force will just intervene and solve all our problems, but that is the furthest from the truth as possible. As the endless winter comes, the song halts briefly in the middle, delivering a chilling riff, depicting a new era of humanity after the end of days.
""Deus Ex" is also the song in which in the third section every band member gets a moment to shine with Stefan's bass solo, Marko's groove rhythm on the drums and Elio's multi-finger-tapping rhythm section.
KOBOLD is a Serbian metal band founded in 2015 with the self-release of the EP Madman's Overture. Since then, in 2017 band has self-released another live EP and the debut album Death Parade.
The band has been constantly active in the Serbian scene. Thanks to its presence, on stage and online, the band is soon contacted by the Mexican label "Iron, Blood & Death corp.," motivated by the Facebook video of a rehearsal where the band played an early version of the first song of the new album. The band soon re-released its debut album on CD in2018 and makes a deal with the label for all further releases.
The band then enters "Citadela Sound Production" studio in November and records its second album titled Masterpace in just five days. The band records the album in a completely new line-up with Marko Stefanović on drums and Stefan Stanojević on the bass guitar, that bring new musical influences to the band. The album is characterized with the elements of death, black and prog metal, longer songs, more complex arrangements and parts, abstract lyrics and experimental approach.
The album is, just as the debut album, produced as a "live garage recording of the band", with least takes possible, no editing, no overdubbing with "impossible" parts in the context of a three-piece band and without layering tracks other than the necessary ones. In essence, it is a raw recording of a band, without polishing, just as it sounds in the given moment.
Masterpace track listing:
Masterpace
Deus Ex
Ad Astra
Vertigo
Thrash Overlords
Blood Drops
Fractured
You can read our review for Masterpace here.