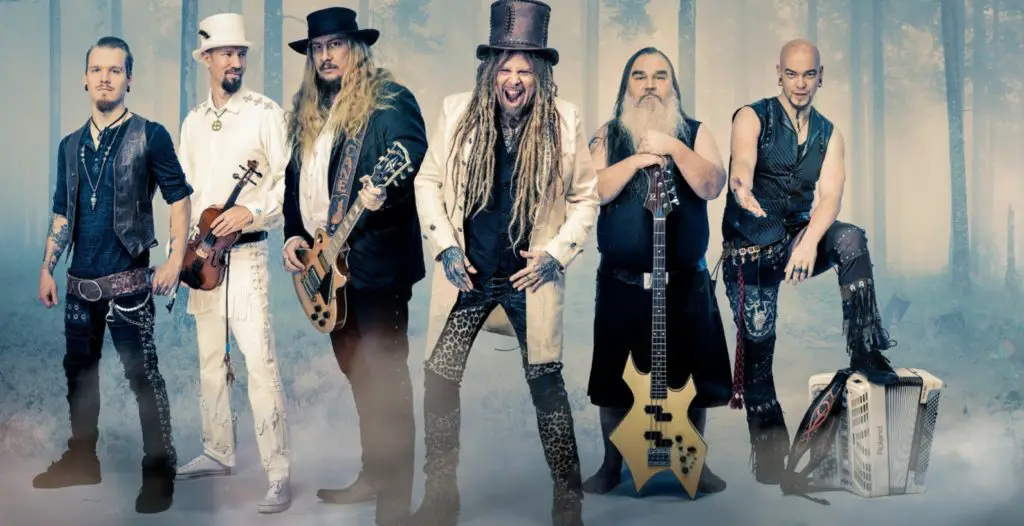 Finnish Folk Metal Superstars KORPIKLAANI do not rest. Their acclaimed 11th studio album Jylhä was released on February 5, 2021. Since then they've been putting out a series of nicely filmed playthrough videos for a few of their new songs. A drum playthrough for the song "Verikoira" marked the beginning, which they followed up with an accordion playthrough for the track "Huolettomat". You can watch another entertaining accordion playthrough by Sami Perttula who is clearly enjoying the challenge of playing this fast paced tune for us.
Sami Perttula comments on the song "Pohja":
""Pohja' presents probably one of the most trickiest arrangement for accordion on the whole album. The song was composed by Jonne and on the original demo there was just the main violin theme before the chorus to give us ideas how to do the arrangements for folk instruments. As always there are plenty of addictive parts in Jonne's songs and one idea led to another one and the final result can be heard on the album. I think for folk instruments the most tasty part is in the end when we have a chance to play our own little solos in a bit of a gypsy style and put some feeling into them.

Lyrically 'Pohja' (rock bottom) literally describes the feeling when one is really down, but it's more like an uplifting song: the main idea of this story is in the strength and courage that will lift us back up and makes us continue our lives and not let the life's misfortunes drag us back down. Again, the lyrics are from our wonderful lyricist Tuomas Keskimäki.

The video was produced by media student Alexander Grönvall. He put a lot of effort into this, so it's here for us to enjoy – he made this possible."
KORPIKLAANI's latest album Jylhä was released on February 5th 2021. Read our review for the album here.
KORPIKLAANI have recently announced that their very own Korpiklaani Vodka has been awarded the World's Best Infused & Botanical Vodka at the INTERNATIONAL VODKA AWARDS competition. This spruce flavoured Vodka is produced by Pyynikin Distilling Company from Tampere who have won several international awards.